Elections and Politics
Where Boston Mayoral Candidates Stand On City Climate Policy
12:35 PM EDT on August 4, 2021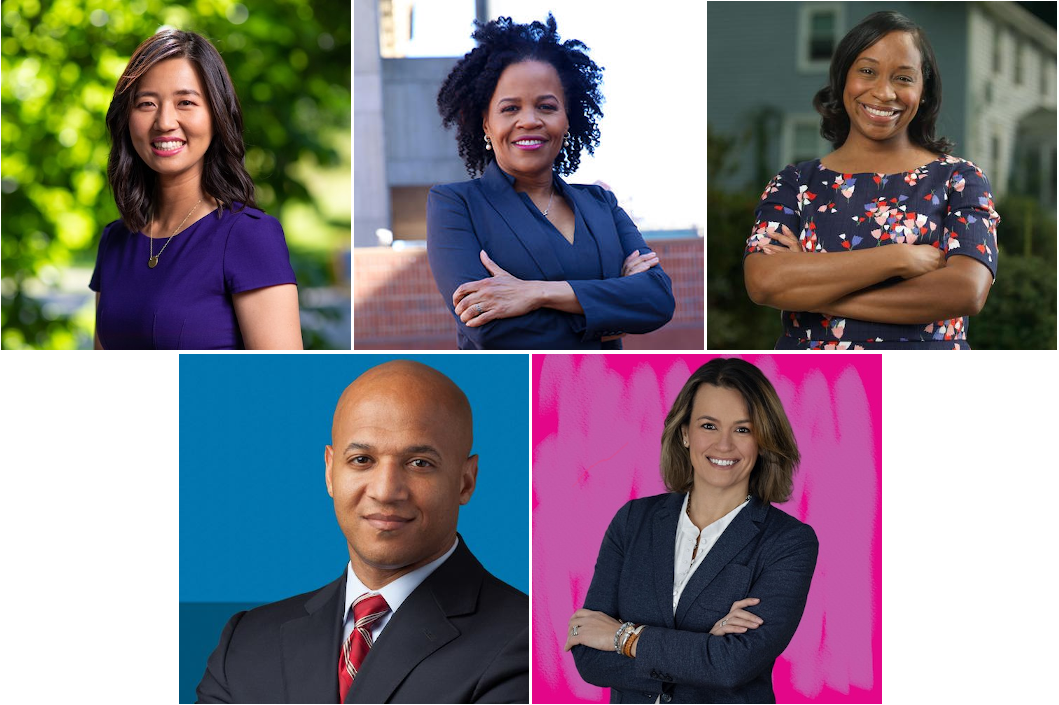 Whether Boston meets its 2030 climate goals will largely depend on the city's next mayor, whose administration will have broad control over some of the city's biggest sources of pollution: energy-inefficient buildings, and traffic on city streets.
In June, Roxbury's Alternatives for Community and the Environment hosted a candidate forum that focused on climate and environmental justice issues in the city. The forum brought together six of the candidates running for election in Boston's September 14th primary, including acting Mayor Kim Janey, John Barros, Councilwoman Michelle Wu, Councilwoman Andrea Campbell, Councilwoman Annissa Essaibi-George, and Rep. Joe Santiago, who has since withdrawn from the race.
The six candidates answered questions regarding food insecurity, affordable housing, and climate goals with a specific focus on low income communities and communities of color.
Across the board, there was an understanding of the important role the next mayor will play in acting to meet climate goals and create long term environmental change. Starting with their opening statements, candidates expressed the urgency for upgrading city streets, buildings, and neighborhoods to meet climate goals.
"Boston is in the midst of a climate emergency, and now is the time to act," said Councilwoman Essaibi-George. "We need a mayor who will do the work, and make sure that work is rooted in our communities. This next mayor must have an obligation, and take it seriously, to fight for the future of all communities."
All of the candidates also agreed that low income communities have been disproportionately affected by Boston's ongoing climate crisis, which has only been exacerbated by Covid-19.
"We have lived through so much during the pandemic, and the horror is, at the very beginning we knew how this was going to shake out," said Wu. "We knew that the very same communities, environmental justice communities, Black communities, immigrant families, who were already bearing burdens prior to Covid-19 would end up bearing all of the impacts of Covid in the same way."
Councilwoman Wu, along with former challenger Rep. Santiago, both used the forum to stake out new, more ambitious goals for Boston's green energy future.
While former Boston Mayor Marty Walsh set a goal of halving city car traffic by 2030 and reaching carbon neutrality by 2050, Wu emphasized that 2050 is not soon enough. If elected mayor, she aims to make all Boston city buildings "green and clean" by 2024, and to do the same with the city electrical grid by 2030.
Rep. Santiago had similar goals, aiming to establish tax credits to retrofit all of the city's buildings by 2035.
The candidates also broadly agreed on the importance of improving public transportation. In a question regarding free-fare public transit, all six promised that, if elected, they would work to provide free MBTA passes for youth in Boston.
Mayor Janey also announced her administration's new pilot program that will make the MBTA's 28 bus free for all riders for a three-month trial period in the fall.
On top of improving public transportation, Mayor Janey is aiming to switch all existing vehicles owned by the city, including its fleet of buses, to electric vehicles.
"Boston is a very old city, and we need to retrofit within city-owned buildings and lead by example. We can do the same in terms of our vehicle fleet," said Janey. "Vehicles owned and operated by the city of Boston can be switched to EVs. We need to transition more people into walking, biking, and shared transit. We need to make sure our roads work better for buses. It is important that we continue to lead by example."
Councilwoman Campbell agreed with that goal. While she did not offer a specific timeline that her campaign is hoping to meet, she was clear on her agreement with Janey that the future is electric.
"Boston must take the lead. For me, it really is about accountability and moving those timelines up," Campbell said. "That means greater investment to make sure that buildings coming from the city of Boston meet these (environmentally green) standards. We need to push the MBTA to electrify their fleet, including the buses. We need to incentivize landlords to do the same with their structures. We can help them get the resources to make their infrastructure meet our standards."
Candidate Barros agreed that Boston has to lead by example, but instead of working with local officials and communities like his challengers, he plans to go higher up to work with large corporations and the Biden administration.
"As we move to an electric vehicle fleet in the city, we need to be driving the demand for new technology in that space and make sure Boston is ready to work with the entrepreneurial community so we have the best technology possible," said Barros. "We need to create reliable, accessible, affordable transportation, and work with the Biden plan."
While all of the candidates expressed similar goals regarding housing, transportation, and carbon emissions, there were some differences in opinion surrounding the discussion of school and community policing.
In a "yes or no" round of questioning, candidates were asked if they would be in favor of removing police presence from public schools. Rep. Santiago and Councilwoman Essaibi-George both said no.
And when asked about cutting city police budgets and using the money for additional neighborhood community centers, Rep. Santiago, Councilwoman Essaibi-George, Mayor Janey, and Barros all said they were opposed to the idea, while Councilwoman Campbell, stressing her personal experience with the harms of excessive policing, expressed strong support for removing police from schools and communities.
While all of the mayoral candidates come from different backgrounds, the forum represented a widespread agreement on the importance of improving city buildings, public housing, and transportation to help Boston reach a number of its climate goals.
"These issues are so important. These are life and death issues for environmental justice communities, Black and Brown communities, and immigrant communities," said Mayor Janey. "We need to do all we can to band together and organize to make sure our grandchildren live in a world that is more just."
---
Claire Wallace is a graduate student studying in the School of Journalism at Northeastern University. She enjoys writing freelance pieces regarding politics, lifestyle, travel, and the environment.
Stay in touch
Sign up for our free newsletter