On Thursday, Governor Maura Healey, Lt. Gov. Kim Driscoll, and their administration's newly-assembled transportation cabinet rode a Red Line train, visited the T's Operations Control Center, and outlined their early plans to tackle the many challenges facing the MBTA.
"Our message to all those who ride the T, the rails, the buses, around the state, know that this administration and the collective efforts here are really, really focused on delivering a system that is safe and reliable," said Gov. Healey.
The Governor touched on the need for the T to hire hundreds of new employees to bring the agency back to a full workforce, and for the agency to be more transparent as it fulfills the requirements of the Federal Transit Administration's disciplinary safety management inspection.
But before she discussed any of those needs in depth, the Governor focused on an issue that's only emerged recently, from a project that had been hailed as a keystone effort in the T's program to "transform" its rapid transit lines.
"Information has come to light that shows there's been a significant delay in the delivery and production of Red and Orange Line cars. The project is way behind schedule and some alarming details have emerged about the quality of the production process," said Gov. Healey.
No new train deliveries in 7 months
For most of us, that information came to light in a Boston Globe report published in January in which former workers at the trains'  manufacturing facility in Springfield spoke of a "toxic" work environment and a lax attitude towards quality control.
At its January 26 monthly board meeting, interim General Manager Jeff Gonneville did not directly reference the Globe's report, but spent considerable time giving board members a rundown on the factory's problems.
Gonneville told board members that "as of right now, we have 78 (Orange Line) cars that have been delivered to Wellington and 12 (Red Line) cars that have been delivered to Cabot... That number hasn't changed in 7 months."
In the original contract with CRRC, the Chinese state-owned company that owns the Springfield factory, all 152 new Orange Line train cars were supposed to have been delivered to the T by January 2022, and all 252 new Red Line cars were supposed to have been finished by September 2023.
The new trains have been pulled out of service repeatedly over the past three years to address numerous design and manufacturing issues, and in the past, the T has blamed pandemic-related "supply chain" problems for delays in deliveries of new trains.
With the new administration in office this January, Gonneville was finally able to admit to the MBTA board of directors that "manufacturing issues needed to be addressed."
A factory with no future
Gonneville also raised the point that because of new "Buy America" provisions that came into effect after CRRC won its contract with the T, the company can't win new contracts from other transit agencies after it finishes building the new Orange and Red line trains.
"Right now CRRC has no further work that is planned for the Springfield factory beyond the MBTA's completion of our project," said Gonneville.
In other words, if workers at the CRRC Springfield factory do start delivering new trains again, they'll essentially be working to hasten the onset of their own unemployment.
However, CRRC's upper management does still have a fairly large financial incentive to get trains delivered on time.
"The clauses in our contract right now say that there is a $500 per-day, per-car penalty that CRRC would owe us as we progress forward," Gonneville told board members at their January meeting.
At this point, with hundreds of train cars delayed for over a year beyond their original delivery deadline, it looks likely that CRRC should owe the T tens of millions of dollars in penalties.
The T's total contract with CRRC was worth $870.5 million.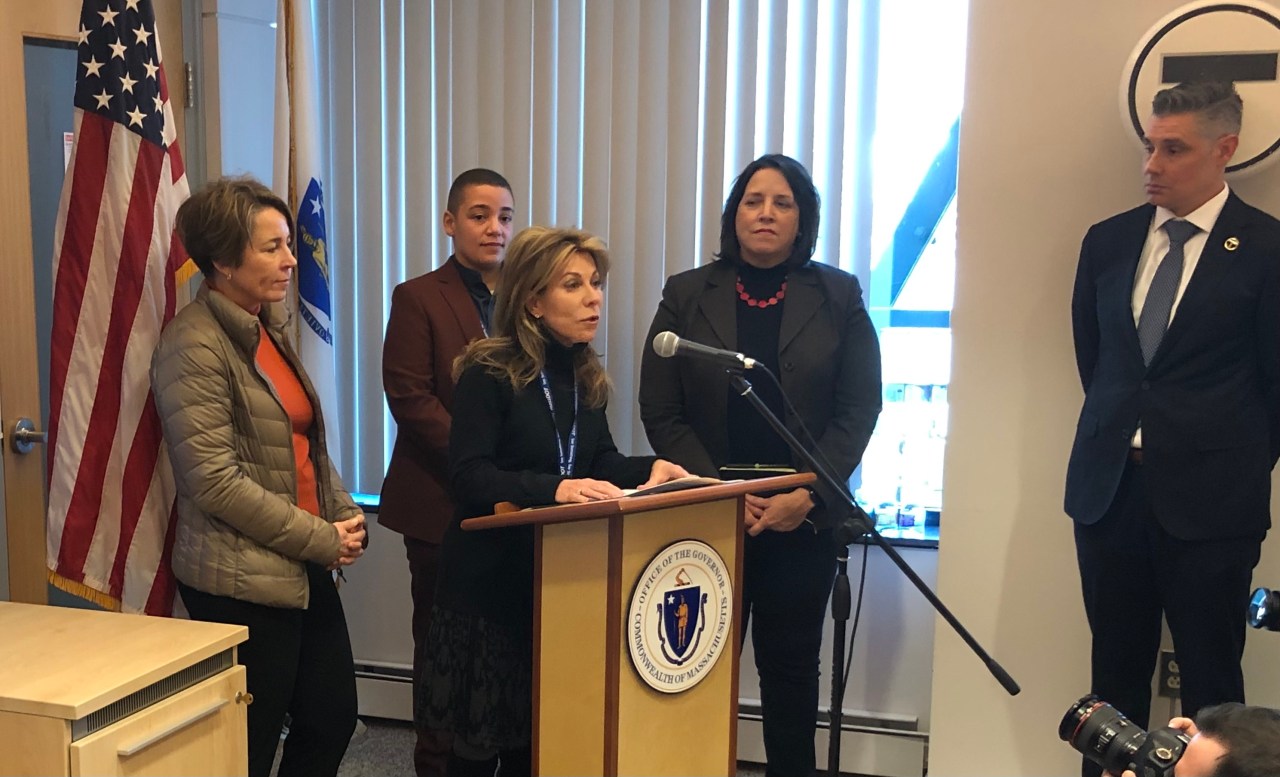 Whose state-owned enterprise?
Now, the Commonwealth is assembling its own management "team of experts" to oversee the Chinese state-owned enterprise in Springfield.
"I want you to know that our team has a constant presence at the facility," said Gov. Healey at Thursday's press conference. "This is an ongoing process and more needs to be done."
"The MBTA will be putting together an independent team of experts that will include management experts, to evaluate what changes and process improvements need to be implemented now in order to accelerate the delivery of cars," the Governor continued. "The team will look into manufacturing, management, operations, delivery schedule, market conditions, as well as existing contractual terms. We understand that time is of the essence here and we are already underway since we became aware of it just a couple of weeks ago."
Getting new trains into service is a key component of the MBTA's strategy to increase capacity and reduce wait times between trains on the Red and Orange lines.
The T now has begun to scrap its older Orange Line trains, which were originally put into service in the late 1970s. But it only has enough new trains on hand to run limited service, which has been in place anyhow because of staff shortages in the T's rapid transit operations control center. 
Stay in touch
Sign up for our free newsletter