Street Design
Provincetown Plans to Carve Up Its Freeway For a New Car-Free Path
6:11 PM EDT on May 25, 2023
The small city of Provincetown, located on the tip of Cape Cod, is already a renowned vacation destination in part because of its tight-knit, walkable downtown, where cars must creep at a slow walking pace behind throngs of pedestrians every summer, and its network of paved paths in the nearby Cape Cod National Seashore.
But for over half a century, an orphaned four-lane divided highway – Route 6 – has cut off the town of 3,000 people from the sand dunes, trails, and beaches that lie to the north of the highway.
"When it was built, there was the expectation that there was going to be a lot of coastal development out here, kind of like an Atlantic City of Cape Cod. They had a lot of empty publicly-owned land – the Province Lands (which later became the National Seashore) –  and they just built the biggest highway they could," explains Rik Ahlberg, chair of the Provincetown Bicycle Committee.
In the adjoining town of Truro, Route 6 narrows back down to a normal two-lane road, and it's hard to justify maintaining a four-lane freeway that connects two small towns to a beach.
So in an upcoming project, the town and MassDOT are planning to connect downtown Provincetown with the trail network of the Cape Cod National Seashore by cutting Route 6 in half.
On the mile-long segment of Route 6 between Provincetown's Shank Painter Road and the beach, the northern side of the divided highway – what are currently the two westbound highway lanes – will be converted into a normal two-lane roadway. The other half – what are currently the eastbound lanes – will be trimmed down to create a 16-foot-wide car-free path: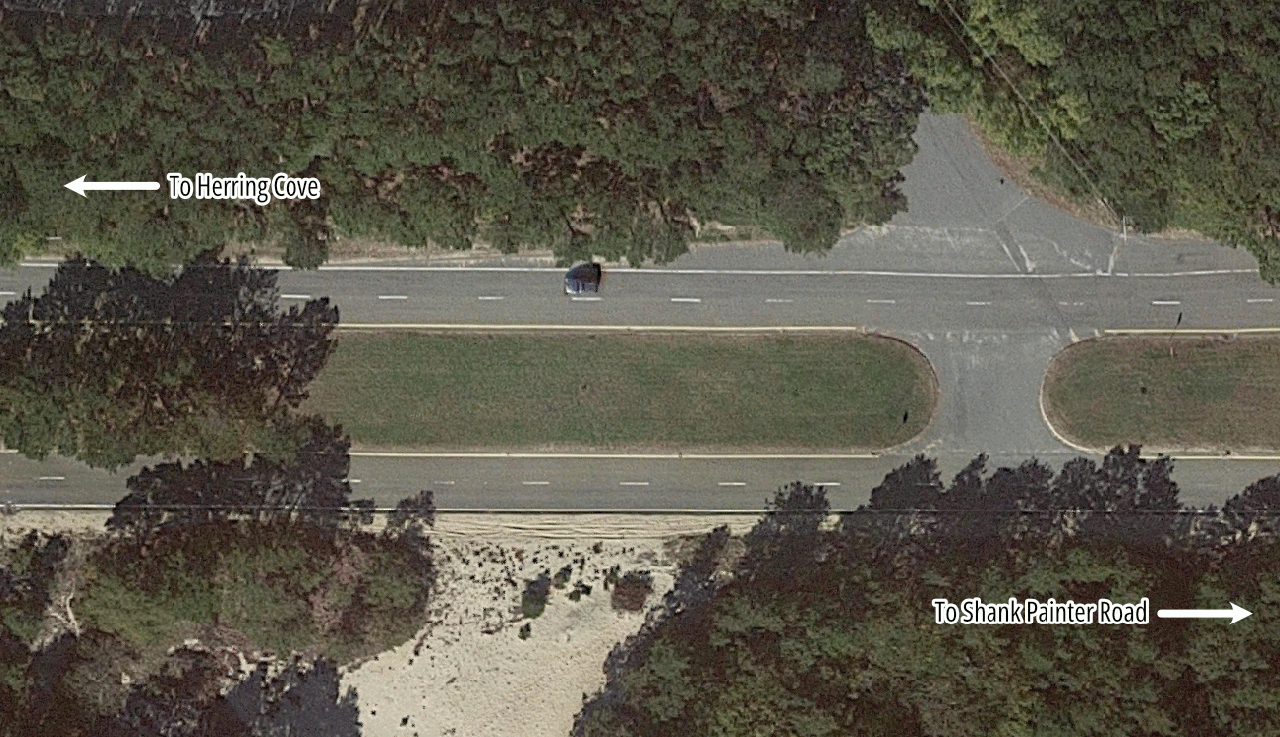 In conjunction with the Route 6 project in Provincetown, MassDOT and the town are also planning upgrades to Shank Painter Road, a major cross-town route that currently lacks any sidewalks along most of its length.
The project would rebuild the intersection of Route 6 and Shank Painter Road as a one-lane roundabout, which would connect the Route 6 multi-use path to sidewalks and a new pair of buffered bike lanes on both sides of Shank Painter Road.
"The concept we have now was designed in 2017, and it's OK, but if the bike lanes are just painted, we think they should be physically protected," says Ahlberg of the Provincetown Bicycle Committee. "It behooves us to spend this money well, and get the most safety we can get."
Ahlberg told StreetsblogMASS that Shank Painter Road isn't merely an important recreational connection that would let more people bike between the town and the National Seashore. It's also an important everyday transportation destination for the town's residents.
"Shank Painter Road is kind of our strip mall zone," says Ahlberg. "There's the big supermarket that everyone goes to, a gas station, a bunch of other businesses."
In the longer term, officials in Provincetown and adjoining communities of Truro and Wellfleet have envisioned extending the car-free pathway along more of Route 6 to create a continuous connection to the Cape Cod Rail Trail, which is being extended to a new terminus on Route 6 in Wellfleet.
At a March meeting of the Truro Bike and Walkways Committee, engineers presented very preliminary conceptual plans for a new 7.8-mile shared-use path that could be built alongside Route 6 from Main Street in Wellfleet – about a quarter-mile from the end of the Cape Cod Rail Trail – to Shore Road in Truro.
Another MassDOT project scheduled to get underway within the next year will add new sidewalks and painted bike lanes along Wellfleet's segment of Route 6 south of Main Street.
The Route 6 and Shank Painter Road projects in Provincetown are currently scheduled for construction in 2024 through 2026.
MassDOT is hosting an in-person public hearing on the project design at the Provincetown Town Hall on Tuesday, June 13, 2023 at 5:00 pm.
Stay in touch
Sign up for our free newsletter