Elections and Politics
Emails Reveal State Officials' Flawed Excuses For Taking Away Riverbend Park Access in Cambridge
10:11 PM EDT on July 26, 2023
Emails obtained under the Massachusetts Public Records law reveal how Governor Healey's newly-hired Secretary of Energy and Environmental Affairs, Rebecca Tepper, decided to restrict access to public parkland by cancelling her agency's popular car-free Saturdays on Memorial Drive in Cambridge earlier this year.
In a memo to the Governor, Tepper wrote that "this has become a political mess and we don't need to get into the middle of it."
Tepper's memo also alleged that Rep. Marjorie Decker, the state representative who represents the Riverbend Park neighborhood, was a key force in her decision.
"Rep. Decker who represents the area does not want the road closed," alleged Tepper.
Rep. Decker disputes that allegation, but has also conspicuously refused to declare her support for the parkland.
Traffic vs. parkland
Memorial Drive in Cambridge is a four-lane highway, but it's also technically a state park under the jurisdiction of the the Department of Conservation and Recreation (DCR), which is part of the Executive Office of Energy and Environmental Affairs (EEA).
For the last three years of Gov. Charlie Baker's administration, the DCR blocked motorized traffic from a long section of Memorial Drive in Cambridge to create expanded riverfront park space on Saturdays and Sundays from spring until late fall.
Before the pandemic, the car-free parkland had been open for recreation on Sundays only.
But as the pandemic waned, so did the state's support for the expanded public access.
At one point last August, DCR unexpectedly announced that it would cancel the Saturday events, then quickly changed course after an uproar from park supporters and Cambridge elected officials.
The City of Cambridge convened several public meetings in 2022 to hear feedback about the expanded Riverbend Park schedule, and residents at those meetings overwhelmingly supported keeping cars out of the park all weekend.
In February, the Cambridge City Council voted 7-2 to pass a policy order that directed their city manager to "expeditiously confer with the appropriate departments and agencies to continue Riverbend Park closures on Saturdays and Sundays... based on last year's successful pilot."
But as the spring approached, the DCR refused to answer questions about when it would re-open Riverbend Park this year.
During that period of uncertainty, Rep. Marjorie Decker's constituents wrote her office dozens of emails asking her to press DCR to support the expanded park access.
Rep. Mike Connolly, who represents the adjacent State House district around Central Square, remained a vocal supporter of the parkland. But Rep. Decker remained conspicuously silent on the issue – at least in public.
In April, Governor Healey's new administration announced that it would cancel the Saturday Riverbend Park events in order to prioritize motor vehicle traffic.
'Rep. Decker is staunchly opposed'
Jake Walker, an attorney who lives in the Roslindale neighborhood of Boston and who frequently enjoyed the car-free Riverbend Park events with his son, told StreetsblogMASS that he decided to file a public records request for documents related that decision "on a little bit of a whim. Something smelled fishy."
Under Massachusetts public records laws, state agencies are supposed to furnish records within 10 business days. Walker filed his request on April 3 and didn't receive the records until July 25.
The records are now available for anyone to download at Muckrock, a website that facilitates public records requests.
The records reveal that DCR officials met with the Cambridge State House delegation on the afternoon of February 27 to discuss the state's plans for the 2023 season.
On March 25, Governor Healey's new Secretary of Energy and Environmental Affairs, Rebecca Tepper, summarized the meeting for her boss in a two-page memo.
"It was a very colorful meeting and DCR mostly listened and answered questions," wrote Tepper. "Rep. Decker reiterated her position that she was opposed to the park and she hoped none of her colleagues would attempt to force this on her district."
Tepper's characterization contradicts what Rep. Decker told a number of her constituents a few weeks later.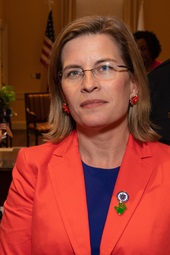 "Given that there have been deliberate mischaracterizations of my role in this process, I want to be very clear that I have not ever publicly or privately advocated against Saturday closures," wrote Rep. Decker in a May 24 email to several constituents (emphasis added).
On Wednesday, StreetsblogMASS reached out to both Sec. Tepper and Rep. Decker to find out whose account was true.
Rep. Decker's office responded with an emailed statement that alleged that Sec. Tepper had misrepresented her position, and that the Secretary had also apologized to her for doing so.
"The email from Secretary Tepper does not, and never has, reflect either my current position, or any position I have articulated in the past," wrote Rep. Decker. "The fact is that I have never stated any personal opposition to the closure of Memorial Drive on Saturdays... I appreciate Secretary Tepper's clarification and apology regarding the misrepresentation of my position and look forward to continuing to talk with constituents on both sides of this issue."
At the time of publication at 9 p.m. Wednesday evening, Sec. Tepper's office had not yet responded to our inquiry.
StreetsblogMASS followed up to ask Rep. Decker whether the "misrepresentation" means that she does, in fact, support re-opening Riverbend Park on Saturdays.
Rep. Decker declined to answer that question.
Tepper memo includes multiple false, disputed claims
The memo from Sec. Tepper to the Governor includes several other factual inaccuracies and disputed claims, which other public officials pointed out after the memo became public on Tuesday.
For instance, the memo alleges that the park "creates traffic issues and leads to more congestion into EJ (environmental justice) neighborhoods."
However, DCR and EEA have not been able to produce any data to support that claim; Tepper appears to be relaying anecdotal accounts from the small handful of park opponents.
StreetsblogMASS asked another attendee of the Feb. 27 meeting, Rep. Mike Connolly, whether the DCR and EEA presented him and his colleagues with any traffic data or analysis in person, where it wouldn't have been part of the public record.
"To my recollection no evidence was ever presented to us in that winter meeting with DCR that would have supported (this) claim," answered Rep. Connolly in an email message on Wednesday.
In another part of her memo, Tepper attacks the legitimacy of the City of Cambridge's public outreach about the park events.
"The city did hold a public meeting on the park's hours but did not hold it in the area of the park and it was mostly attended by those in support of the park and not from the impacted area," wrote Tepper.
In fact, the City of Cambridge held three public meetings about Riverbend Park in 2022. One of those was a virtual meeting on Zoom; the second, on June 28, was held in Wheeler Park, adjacent to Memorial Drive; the third, on October 6, was held at Dr. Martin Luther King, Jr. School on Putnam Avenue, a three-minute walk from Riverbend Park.
StreetsblogMASS has published a copy of Sec. Tepper's full memo with annotations that detail its disputed claims. Read it here.
Stay in touch
Sign up for our free newsletter