Trails
Travel Guide: Riding the New Northern Strand Trail to Lynn
7:00 AM EDT on July 12, 2021
Editor's note: This will be the first of an occasional series highlighting recreational car-free trips around Massachusetts. We're looking for contributors who'd like to highlight their favorite recreational car-free trips around the state. Contact christian@streetsblog.org if you'd like to contribute.
In between heat waves last month, your editor bought one of the last $2.40 commuter rail tickets from North Station to Lynn to check out the new Northern Strand Trail.
It's still technically under construction. But the small handful of worksites are easy to bypass, and on a weekday morning, there were dozens of people walking, biking, and picnicking along the trail's freshly-laid pavement.
Like the Minuteman Bikeway through Arlington and Lexington, the new Northern Strand Path is poised to become a major new transportation route for North Shore commuters. But the Northern Strand's stunning and abundant waterfront views also make it stand out as a recreational destination.
If you start, as I did, from Lynn's downtown train station in Central Square, you'll be able to check out the city's collection of outdoor murals, or grab breakfast at the Capitol Diner.
From downtown, bike riders can take advantage of newly-painted bike lanes on Market Street and bike/bus lanes on the Lynn Common to get to the current trail terminus at Western Avenue.
This section is probably the most daunting part of the ride, since the new paint has no effect on the behavior of some of Lynn's motorists (on my ride, I saw an aggressive drivers use the new "bus lane" along the Common to swerve around a driver who had the nerve to obey the speed limit).
Lynn has longer-term plans to build a fully-separated bikeway along this route to connect the Northern Strand with the city's oceanfront bike paths, but for now, if you're looking for a car-free experience, it's possible to bypass downtown Lynn and ride straight to the trail's Western Avenue terminus on the 426 or the 450 bus routes from Haymarket.
North of Western Avenue, the trail cuts through a residential neighborhood. Here, on a two-block segment between Cottage and Spencer Streets, the trail corridor doubles as a neighborhood park, with new playground equipment and raised community garden beds being installed this summer. As of late June, this section was still a construction zone, but it's easily bypassed along parallel neighborhood streets.
After crossing Summer Street in West Lynn, the trail emerges dramatically from a forested tunnel into expansive views over the Saugus River estuary: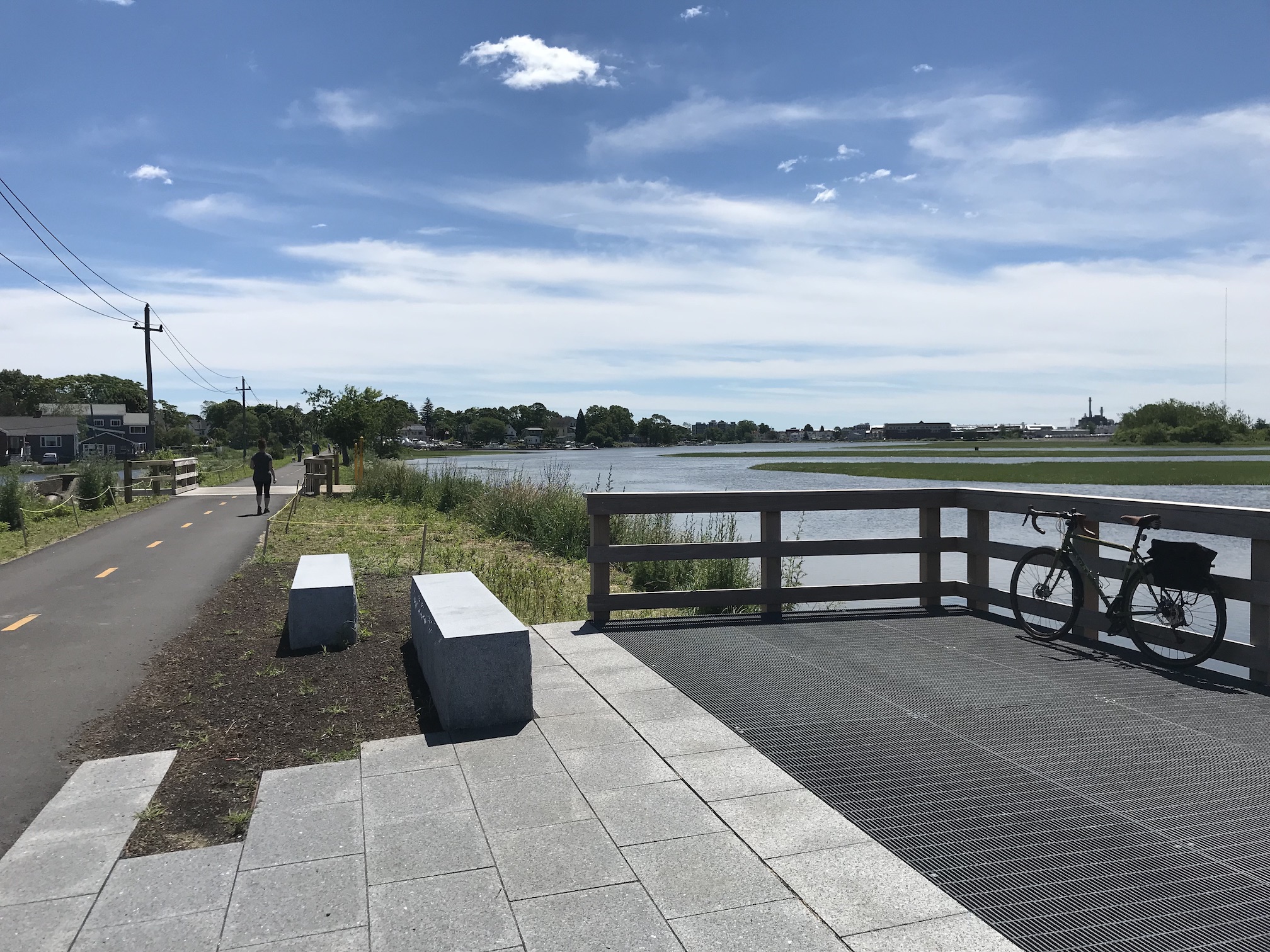 The trail project has also installed new wildlife viewing areas and benches (like the ones pictured above) alongside the marsh in Lynn. These are good spots to enjoy a sandwich from Papavivi, a Puerto Rican sandwich shop that's right next to the trail's Boston Street crossing.
Just west of Boston Street, the trail crosses into Saugus and over a newly-installed bridge over the Saugus River. This, too, was still fenced off for construction in late June, but trail users have been make the short crossing on top of the older bridge (visible to the right of the new bridge in the photo below).
My previous impressions of Saugus had been limited to the strip malls along U.S. Route 1, but the Northern Strand shows off a more flattering side to the town. After crossing the marshes, the trail curves inland and crosses Central Street, Saugus's older commercial center. Unfortunately, those Route 1 strip malls seem to have sucked most of the life out of it, but if you need a pit stop, there is a convenience store right up the street, and a couple of pizza joints.
Leaving Saugus, the trail returns to another salt marsh – the headwaters of the massive Rumney Marsh – on the northern side of Revere. If you're riding with kids, there's a good playground where the trail crosses Salem Street, at the city's Salem Street Park.
In Malden, the trail passes right in front of the Charles Ro Supply Company, a huge model train store. If you're riding with kids or adult train buffs, it's possibly worth a pit stop – there's a large and very sentimental-for-bygone-times model train display on the second floor.
I could probably write a 1,000-word essay about this store, its huge parking lot, and the pernicious effects of nostalgia on transportation policy, but we're just having a fun bike ride here, so let's move along!
In downtown Malden, much like in downtown Lynn, the Northern Strand path gets a little more difficult to follow, as its historic path was largely obliterated for a 20th-century widening of Centre Street through Malden's downtown district.
A quick-build project that would put this part of Centre Street on a road diet and add wide, buffered bike lanes hasn't been implemented yet, so for now, following the Northern Strand through Malden Center requires some awkward street crossings, and short stretches of riding on sidewalks.
For the time being, there aren't any connected bike routes between the trail, downtown Malden, and its Orange Line station – again, Centre Street is a big barrier – but it's a short and easy walk, and relatively confident bike riders should have no problem riding in mixed traffic along Malden's low-speed downtown streets.
Downtown Malden also has lots of places to eat, all of which look very enticing after a bike ride from Lynn. I treated myself to some soup dumplings for lunch at District Kitchen, which is across the street from the Malden Center T station.
South of Malden Center, the Northern Strand Path continues into Everett, passing by the new Rivergreen Park to the trail's current southern terminus just north of Sweetser Circle.
This summer, the pathway is closed south of Waters Avenue, but that's because construction is underway to extend the trail under the Revere Beach Parkway to Everett's  Riverwalk along the shore of the Mystic River.
From there, someday we'll be able to ride across a car-free bridge to the Assembly Orange Line station in Somerville. That project has been designed and permitted, but still remains unfunded.
Stay in touch
Sign up for our free newsletter