Highways
Under Harvard's Influence, MassDOT Approves $86 Million Contract to Rehab Allston Highway Viaduct
11:26 AM EDT on March 21, 2023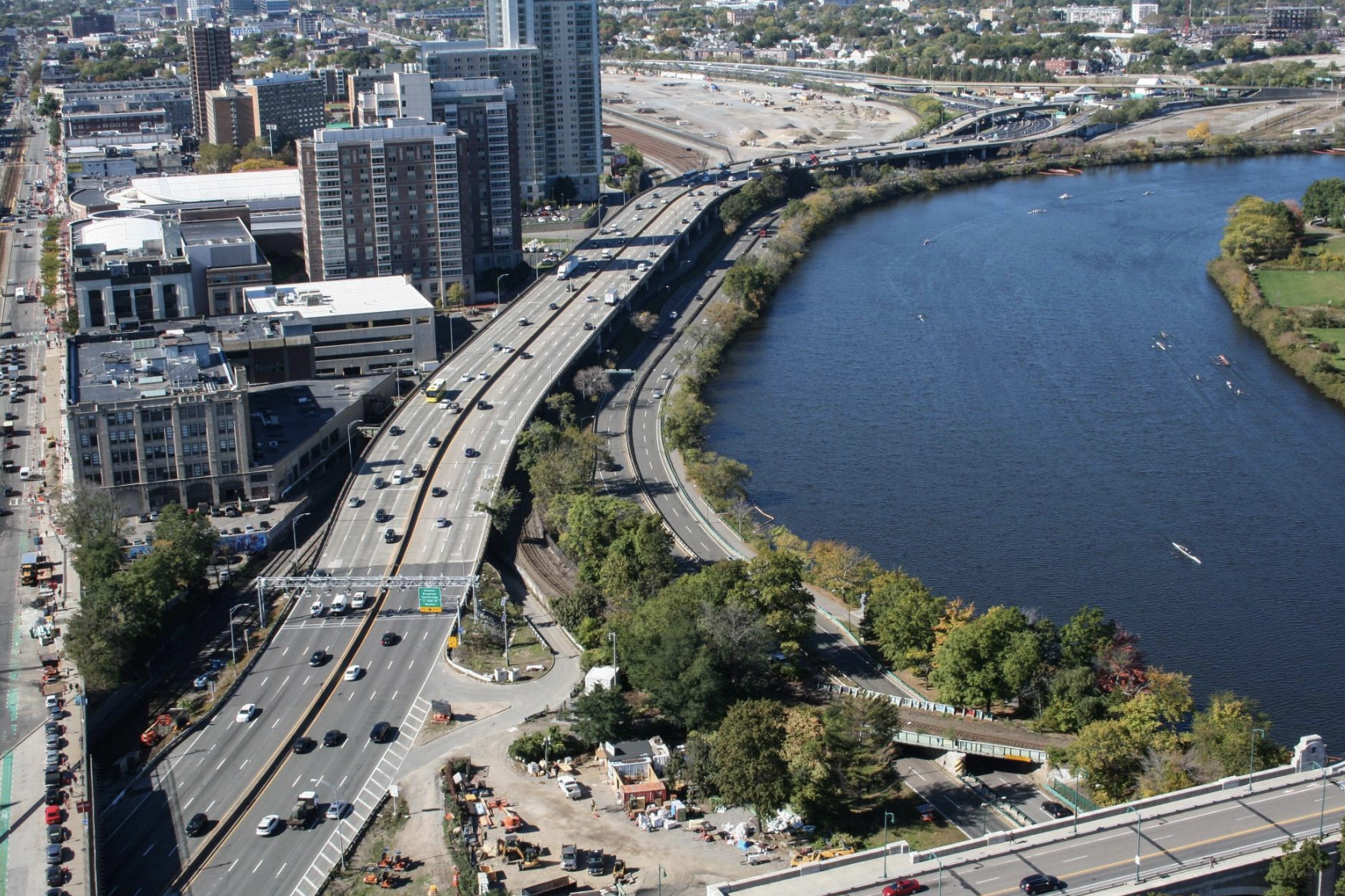 Last week, the MassDOT Board of Directors approved a massive $86 million, 4-year contract to repair an aging highway viaduct along the Charles River in Allston, even though major details of the contract's scope of work remain in flux, and the agency also has plans to tear down the same viaduct within the next decade.
Since 2014, MassDOT has been sounding alarms about the poor structural condition of the I-90 viaduct, which carries the Massachusetts Turnpike above the MBTA's railroad tracks next to the Charles River.
The need to replace the structure was one of the key motives that led MassDOT to propose the Allston Multimodal Project, a massive reconfiguration of I-90, Soldiers Field Road, and the Framingham/Worcester railroad line through Allston.
But while the viaduct continues to deteriorate, the larger Multimodal Project has been stuck in limbo for the past year: a public task force associated with the project hasn't met since June 2022, and this winter, the federal government rejected MassDOT's request for funding from a new Bipartisan Infrastructure Law grant program for large-scale infrastructure projects.
With the long-term plan still in flux, MassDOT officials are insisting that they need to start work in this year's construction season to keep the viaduct standing long enough for the Multimodal Project to become a reality.
The $86 million "preservation" project is expected to last 44 months.
At last week's MassDOT board meeting, longtime members of the Allston Multimodal Project's task force – which has been meeting since the spring of 2014 – and several MassDOT board members questioned the wisdom of spending so much time and money on a highway that the agency plans to tear down in the near future.
However, behind the scenes, MassDOT has been working with two powerful institutions to make last-minute changes to the "preservation" project's scope of work so that it might better set the stage for the larger multimodal project.
"We do have an alternative staging plan (for the $86 million preservation contract) that's under review right now," Jonathan Gulliver, MassDOT's Highway Division Administrator, told board members on Thursday. "Our goal is to adopt anything in it that can help the larger multimodal project in the future."
Gulliver also said that "the new staging plans that we're talking about were presented to us by stakeholders. So although they were engineered, it's going to take some time for our team to go through them."
Gulliver did not name the stakeholders who had proposed these alternative plans, but StreetsblogMASS has confirmed that they are A Better City, a business organization that's been influential in the design of the Allston Multimodal Project, and Harvard University, which owns 90 acres of extremely valuable real estate in the area.
"The idea is to address the near-term safety issues, but also advance the I-90 Multimodal Project, specifically related to site prep, construction staging, traffic mitigation, and planning. It could be almost be a 'phase one' contribution to the (mulitmodal) project," explained Rick Dimino, President of A Better City, in a phone conversation with StreetblogMASS last Friday.
Dimino noted that some construction staging plans for the Allston Multimodal Project have proposed expensive and intrusive temporary roadways to keep traffic moving during the construction process.
But if MassDOT plans to rehabilitate the old highway viaduct, "you can keep the elevated structure open to traffic while you build a new road underneath it. You don't need to build a temporary viaduct or shift lanes, which saves a lot of time and money," Dimino said.
A Better City's construction staging plan recommends that MassDOT build new at-grade roadways alongside the Charles River's banks to accommodate westbound Turnpike and Soldier's Field Road traffic, consistent with the Allston Multimodal Project's longer-term recommendations for the area.
Once those new at-grade westbound lanes are built, westbound I-90 traffic could move off the viaduct onto the new roadway, and the westbound lanes of the viaduct can be torn down. Then, in the space where that piece of the viaduct used to be, MassDOT can then build additional at-grade highway lanes to do the same thing for the eastbound part of the viaduct.
"It saves some steps, and saves some money, but also allows you to get traffic operating on finished assets sooner rather than later," said Dimino.
Dimino added that his organization and Harvard had each prepared their own alternative staging concepts independently, but said that there was considerable overlap between their proposals.
Harvard did not respond to a request for comment on this story.
Meanwhile, several members of the Allston Multimodal Project's public task force, a group of less-powerful stakeholders, including Allston residents and municipal officials, told StreetsblogMASS they've been left out of these discussions.
"There's been zero transparency about this plan," said Galen Mook, an Allston resident and task force member (Mook is also the executive director of MassBike). "It's concerning that Harvard, an institution that has historically been opaque in their plans to develop in Allston, has control over the major infrastructure that impacts thousand of residents here, without having a clear and transparent process to share what those conversations are."
At Thursday's MassDOT board meeting, Highway Administrator Jonathan Gulliver promised that his staff would provide a public update on these new "alternative staging" plans, along with any proposals for modifying the scope of the $86 million contract, at MassDOT's April or May board meeting.
The alternative plans from Harvard and A Better City "seem to have merit," said Gulliver. "I think there's some potential benefit in what we've seen, and they've obviously put a lot of hard work into it, it's professional work… but it's not something that was done by our team, they brought it to us. And we've only had it a couple of weeks. That's why we need a couple of months to work through that – it's brand-new information."
The request to approve $86 million in spending on a vague plan that hadn't yet received any public input gave several MassDOT board members pause, and one of them – Tim King of Waltham – cast a rare dissenting vote against MassDOT's recommendation.
"I always feel uncomfortable taking a vote for something that there's automatic or perceived changes coming in the very near future," King said. "So in my opinion, this can wait a month or two to get the public input that people have concerns with, and to hear of these new proposals."
MassDOT board Vice-Chair Betsy Taylor asked MassDOT whether they had considered "doing a smaller contract now that would start the essential work you reference, and then have more things added to it when there is consensus on what that should be."
Gulliver responded that the single $86 million contract included language that is "very flexible," and that if MassDOT is able to secure funding for the larger multimodal project, the agency has the ability "to significantly modify, or completely cancel the remainder of this preservation contract."
Joe Beggan, a MassDOT board member who was Harvard's senior transportation manager for 13 years, until June 2021, was also present for the discussion, but notably did not participate.
The board ultimately voted 7-1 to approve the $86 million viaduct preservation contract, with King casting the lone dissenting vote.
This story was updated at 3 p.m. on March 22 to add additional details about A Better City's construction staging proposal.
Stay in touch
Sign up for our free newsletter