MBTA
T Reacts to Ongoing Driver Shortage With More Bus Service Cuts
9:19 AM EDT on June 7, 2023
The MBTA will further reduce bus service in its published schedules this summer to react to its ongoing shortage of bus drivers.
Riders on key bus routes will wait a few more minutes between scheduled buses. But MBTA officials say that on a practical basis, riders will get more predictable service from a reduction in "dropped trips" – scheduled buses that never show up.
A lack of available drivers forced the agency to drop one in 25 of its scheduled bus trips this winter.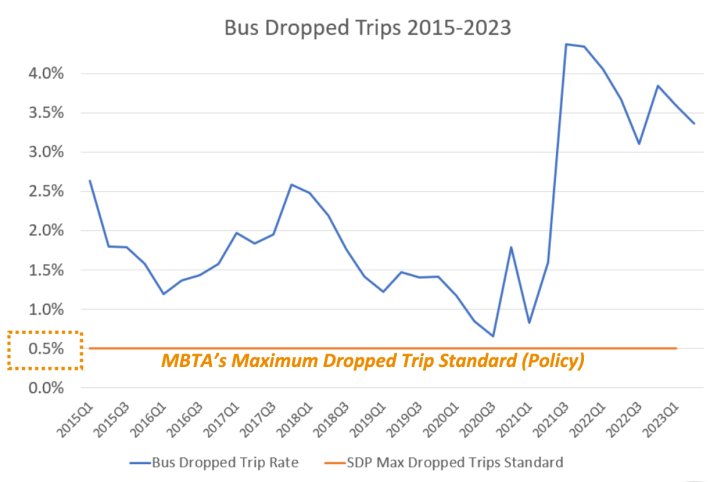 "Fundamentally the bus service we provide today as of right now does not meet our own standards," said Kat Benesh, the MBTA's Acting Deputy Chief Operating Officer, at last week's MBTA board meeting.
More dropped trips on key bus routes
In practice, bus dispatchers tend to drop trips on more-frequent-running bus routes to avoid stranding riders for longer periods on other routes. Dropping a trip on a route where buses are supposed to come every 10 minutes will result in a 20 minute gap between buses, whereas a missed trip on a route where buses come every 30 minutes will result in an hour-long gap.
But frequent-running bus routes generally serve high-ridership neighborhoods, so this practice disproportionately affects the T's most dedicated customers. On three of its key bus routes – the 1 between Dorchester and Cambridge, the 32 in Hyde Park, and the 57 to Watertown – the T has been missing at least one in 7 bus trips in recent months. On the 111 route from Haymarket to Chelsea, the T has been missing 1 in 8 trips.
Now, instead of publishing bus schedules that it can't deliver, the MBTA will adjust bus timetables to reflect its reduced capacity.
"We call it truth in advertising… fundamentally we are not changing the level of bus service, we are just matching our schedules to what we are actually delivering," said Benesh.
Another casualty of the driver shortage:  the agency's "bus network redesign," which was supposed to start implementation this year.
Instead, "the specific route changes associated with bus network redesign are on pause," said Benesh.
Union negotiations focus on bus driver schedules, wages
Over the past year, the T has rolled out extensive outreach campaigns to try and convince more people to apply for its vacant bus operator positions.
But the pace of hiring has not been able to keep up with the number of drivers leaving the T. The T has lost about 8 percent of its driver workforce since 2020 (note the truncated y-axis in this chart, which exaggerates the decline):
During his General Manager's report to the MBTA board of directors in May, Phillip Eng confirmed that the T is negotiating with its union to make bus operator jobs more attractive to qualified workers.
"One roadblock that we've heard from candidates is the part-time entry-level bus (operator) position," said Eng."And I'm pleased to report that we have come to an agreement with Local 589, the Boston Carmen's Union, to hire new bus operators directly into full-time status."
Under current rules, new drivers can work only 30 hours a week during a three- to six-month probationary period. That rule limits new drivers' take-home pay and forces them to work inconvenient schedules.
Board members also asked about the T's unusually low starting wages for new drivers.
"I don't think people with experience are going to come for $22 an hour," observed board member Bob Butler.
Butler is also Vice President of the Massachusetts AFL-CIO, and he reminded his colleagues that people with commercial driving licenses are in high demand.
"This is obviously a point that David Panagore and our labor relations team are going to be working on," MBTA Deputy General Manager Jeff Gonneville responded. "The entire wage schedule for our bus operators and a number of other classifications as well. This is something we recognize, and we're in active contract negotiations to address it.
The T's management is also looking into ways to reduce the number of unpopular "split shifts" in bus drivers' work schedules. Currently, because the T offers more bus service during the morning and evening peak commuting hours, some drivers must take 2 to 3 hour breaks in the middle of the day to cover the morning and evening rush.
So the T is looking into creating a new part-time driver position, which could help cover those gaps. Part-time positions might attract more candidates, too.
"There's also a population who is probably looking for more of a life-balancing schedule," said Benesh. "Who want to work maybe 20 hours (a week), but a predictable 20 hours. That's potentially only covering one shift, like the morning peak, (but it) allows them to take on caregiver responsibilities, to do educational pursuits, or potentially even a second job."
Stay in touch
Sign up for our free newsletter