MBTA
An Unpublished Report Tallies How Much Money the T Needs to Fix Its Problems. Why Doesn't the T Want Anyone to See It?
"The public sees that more does need to be spent," says Rep. William Straus, the House Chair of the Legislature's Joint Committee on Transportation. "But how do we give them what they need when we don't have a calculated number?"
6:15 AM EDT on June 29, 2023
How much money will it cost to fix the T?
To answer that question, the MBTA has been working on a "capital needs assessment," a detailed accounting of how much it will cost to make Boston's transit system work without derailments, fires, and falling ceilings.
Sources familiar with the process have told StreetsblogMASS that the capital needs assessment is largely complete, and it includes an estimate for what the price tag might be.
But as budget deadlines loom, the T refuses to release the document to the public.
StreetsblogMASS requested a copy, but the MBTA's public relations staff declined to provide one. On Tuesday, we filed a formal request for the document under the state's public records law.
Legislators in the State House haven't seen the report, either.
"The public sees that more does need to be spent. And the Legislature has been there with the funding every time we've been asked," Rep. William Straus, the House Chair of the Legislature's Joint Committee on Transportation, told StreetsblogMASS in a phone conversation on Tuesday evening. "But how do we give them what they need when we don't have a calculated number?"
Assessment has been in the works since 2022
The MBTA typically tallies its capital needs every three to four years.
The agency's last Capital Needs Assessment, which come out in 2019 just weeks before a major derailment destroyed part of the Red Line, estimated that the agency would need $10.1 billion to repair or replace its aging equipment and facilities.
According to an October 2022 report to the Federal Transit Administration (FTA), the capital needs assessment process aims to inventory "the condition and age of MBTA's capital assets and the approximate costs to replace or repair them," and "leverage this information to support smarter capital investment decision making."
The same October 2022 report to the FTA said that "the 2022 Capital Needs Assessment is currently underway and will be completed in late 2022."
Several tables in that report referenced the assessment in a section that describes the poor condition of various MBTA assets: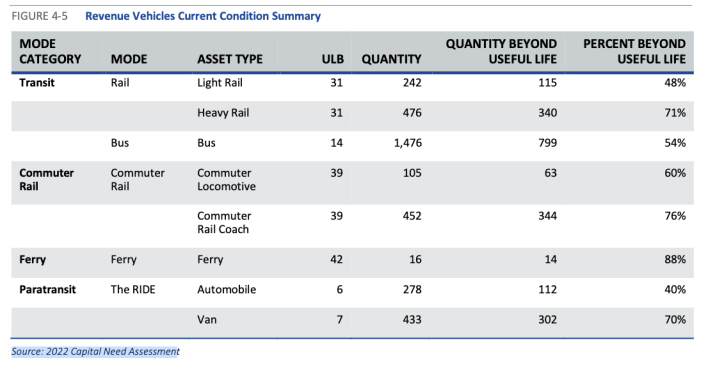 The MBTA's Board of Directors will likely approve a new 5-year capital investment budget at next month's meeting, after state legislators adopt a state budget that will determine how much funding the T can expect.
But without the capital needs assessment, key decision-makers remain in the dark about how large those budgets really ought to be.
"Ideally the timing would be different," says Brian Kane, the Executive Director of the MBTA Advisory Board.
Kane told StreetsblogMASS that he also has not yet seen the latest capital needs assessment.
"I don't think the administration is trying to hide the football. It's more of a timing question," said Kane. "I think the Governor wants to get her first budget behind her and get the T's operations budget done, and then start talking about the bigger question, which is the number of capital and operating dollars that the T will need over the long term. And it's a big number."
Missing information a focus at Legislature's oversight hearing
At an oversight hearing on Monday, lawmakers in the State House repeatedly asked MBTA management when they could expect an estimate for how much money the T needs.
The missing number was the topic of a lengthy exchange between Joint Committee on Transportation co-chair Rep. William Straus and the MBTA's new General Manager Brian Eng.
"Do you have a handle on what the number is, from a capital investment or repair standpoint, or equipment acquisition standpoint, that is needed to get each of the parts of the system to a state of good repair?" asked Rep. Straus.
"That effort on the needs is still being developed. There's a lot of discussion ongoing. I do know that we have a tremendous amount of work that we need to do," answered Eng. "But in order to get to a state of good repair one of the things that I need to focus on is the immediate needs, right now, where we are suffering the worst challenges with the speed restrictions."
A few minutes later, Rep. Straus asked again: "Is there any deficit in the financial resources you need to deal with the immediate safety issues? Are you getting the money you need?"
Eng: "For the immediate term, what we're doing right now, we have the funds to keep progressing. Longer-term, we need funds, we need steady revenue. Obviously the revenue from ridership, even in the best of times, does not cover our operating costs so definitely additional funds are needed."
Rep. Straus: "When is it at least planned that the Legislature will be informed of what the funding needs are, for the complete state of good repair resources that you need?"
Eng: "I don't have a specific timeframe for that, but I know we are working on that, because we know how important that is in order for us to be able to work with all of you. If we are asking for assistance, it's important that we share that information. I understand that."
Rep. Straus: "I understand I'm pressing you on this but is it going to be this calendar year? Obviously not – the end of the fiscal year is upon us – but is it something we can expect this calendar year?"
Eng: "Yes. That is our goal." 
Unknown number, but a known problem
Jarred Johnson, executive director of TransitMatters, has critiqued the Legislature for not providing adequate funding for urgently-needed repair and modernization projects.
But he admits that it's hard to fault lawmakers when the T won't provide basic information about how much it needs.
"It's good that Rep. Straus is asking these questions," Johnson told StreetsblogMASS. "It's very helpful that the legislature is asking for the full number for a state of good repair. But we really need the T to get this info to the legislature as soon as possible." 
Johnson says that the T's capital needs are likely to be "very, very pricey."
Brian Kane of the MBTA Advisory Board agrees.
"I think it's going to be a big lift," Kane told StreetsblogMASS.
Still, even if the exact number remains shrouded in secrecy, Johnson says that the Legislature has enough information at hand to know that a significant increase in public investment is necessary.
He notes that in the MBTA's most recent capital budget planning effort, MBTA staff requested $9.25 billion for new safety and reliability projects.
The most recent draft of the capital budget allocates $956 million to new safety and reliability projects – one tenth of what staff had requested (see page 32 of this March presentation).
The total 5-year budget proposal includes a total of $7.6 billion for safety and reliability projects, but most of that funding is for projects that are already underway.
Stay in touch
Sign up for our free newsletter