Vision Zero
Andover Town Officials Ignored Residents' Warnings About Site of Fatal Crash
5:08 PM EDT on June 8, 2023
In the past year, town residents have repeatedly asked Andover town officials to take responsibility for a pattern of close calls and near-misses at the downtown intersection where a truck driver killed a 5-year-old girl in a crosswalk last month, but the Town Manager and police department neglected to act on those warnings, according to town email records.
In May, a truck driver approaching Andover's Main Street from Elm Street drove into the intersection's crosswalk to strike and kill Sidney Olson, aged 5, in front of her family.
Several eyewitnesses told reporters on the scene that the family had a walk signal when the perpetrator drove their truck into the crosswalk.
"We worried it was just a matter of time before something happened," Andrew Lewine, a member of the Walk/Bike Andover safety advocacy group, told StreetsblogMASS. "I got a little frustrated (with the lack of action from town officials). I told them it feels like they're prioritizing the convenience of drivers over the safety of pedestrians here."
According to the MassDOT crash database, before Sidney Olson's killing, there had been 35 reported crashes at this same intersection since the start of 2018, including 7 that had resulted in at least one injury.
About a quarter-mile to the northeast of the Elm-Main intersection, another driver struck and killed a 78-year-old pedestrian on Elm Street almost exactly one year earlier, on April 27, 2022.
Near misses, bureaucratic brush-offs
"I'm writing as a concerned citizen/parent about the intersection in front of the library," wrote Margot Dillon in a June 3, 2022 email to Paul Materazzo, the town's Director of Planning, and Glen Ota, an officer in the town's Police Department. "We've had three dicey crossings at the location in the past two weeks. The most recent (incident) being our 8-year-old daughter nearly clipped by a car as it turned into us."
Dillon went on to request measures like "no turn on red" signage and an exclusive pedestrian phase at the traffic signal, which would show red lights for vehicles on all approaches to the intersections while pedestrians would get walk signals.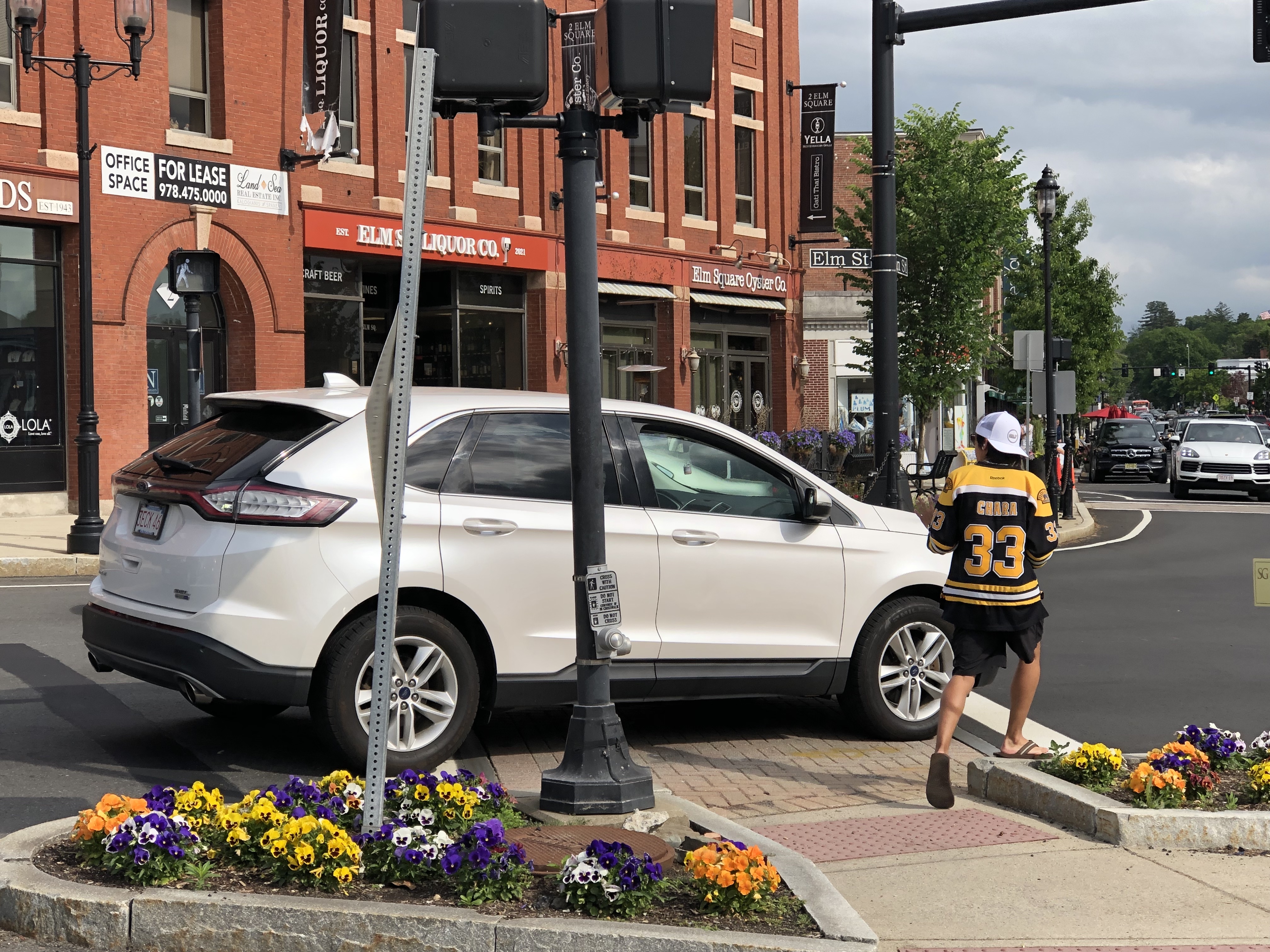 In a June 6 response, Officer Ota rejected those suggestions, claiming that "the exclusive pedestrian phase would be lengthy and cause major queueing on both legs of the intersection" – in other words, because people in cars might have to wait in a longer line at the traffic light.
StreetsblogMASS reached out on Thursday to Officer Ota to get more details on that decision.
Ota did not respond. But we did get a call back from Andover Police Lt. Edward Guy, who bristled at the line of questioning.
"It's gross and despicable that you would even ask about that," said Guy. "You want to sit there and assert that somebody died as a causation of a decision that was not made."
Guy also repeatedly referred to Olson's killing as an "accident," even though the circumstances of the crash allegedly remain under investigation.
Andover's town website describes Ota as a "safety officer." Guy confirmed that his job was to work "on safety issues and ways to mitigate problems."
StreetsblogMASS asked Guy to clarify whether Ota, as the town's safety officer, actually has any responsibilities over a pattern of dangerous crashes in a prominent downtown intersection.
"Glen Ota is not responsible," answered Lt. Guy. "His responsibility is to look into safety issues."
Walk signals do not meet standards
In another email thread with town officials, Lewine, the member of the Walk/Bike Andover safety advocacy group, repeatedly asked town officials to fix an inadequate "clearance interval" on the intersection's walk signals.
The clearance interval is the period of time when a signal shows a flashing red hand.
According to national design standards, that interval should be long enough to allow a pedestrian crossing in the crosswalk who left the curb at the beginning of the interval "to travel at a walking speed of 3.5 feet per second" to the other side.
That standard is based on average walking speeds among able-bodied adults. Guidelines encourage even longer walk intervals at intersections where there are larger numbers of children, or people with impaired mobility.
By Lewine's measurements, the crosswalk across Elm Street where last month's fatal crash happened is about 44 feet wide. At 3.5 feet per second, a pedestrian would need 13 seconds to cross Elm Street safely.
The adjacent crosswalks across Main Street are longer – one is 51 feet, and the other is 55 feet wide. Under national standards, those walk signals should have clearance intervals of 15 and 17 seconds, respectively.
However, the signal gives pedestrians only 11 seconds, in any direction.
Lewine first alerted town officials to the problem in an email dated August 9, 2022. In May, after Syndey Olson's death, Lewine raised the issue again, but Town Manager Andrew Flanagan responded, on May 25, that the town could not make any changes without MassDOT's approval.
A subsequent report by Dave Copeland in the Andover News contradicted that assertion. MassDOT officials told Copeland that "Andover can increase the amount of time walk signals are lit by simply notifying the state."
'This has been the town's highest priority.'
On Thursday, Andrew Flanagan, Andover's Town Manager, told StreetsblogMASS that his staff are finally making changes in the wake of Olson's killing.
"It's been all hands on deck, and this has been the town's highest priority," Flanagan said.
Flanagan noted that Andover's Town Meeting had already approved a $50,000 appropriation in the town's capital budget on May 1 to hire a consultant to study the intersection.
Since Olson's killing, though, the town has accelerated a few low-cost improvements.
Flanagan said that the town has moved the stop line back from the Elm Street crosswalk so that stopped vehicles will have better sight lines into the crosswalk in front of them.
Flanagan also told StreetsblogMASS that the town had finally adjusted the intersection's walk signals to give pedestrians more time to cross.
However, when we visited the intersection on Thursday afternoon, the clearance intervals still only gave pedestrians 11 seconds.
Meanwhile, the crash has also galvanized Andover's parents and street safety advocates. Sidney Olson's father has joined with other concerned parents to create a new advocacy group they're calling Sidney's Rainbows.
The group will join officials from the Town of Andover to host a safety forum Thursday evening.
The event will be Thursday, June 8, at 7 p.m. at Doherty Middle School in Andover. 
Stay in touch
Sign up for our free newsletter