The Climate Emergency
Climate Chief Wants MassDOT To Start Treating the Climate Emergency Like an Actual Emergency
9:40 AM EDT on October 26, 2023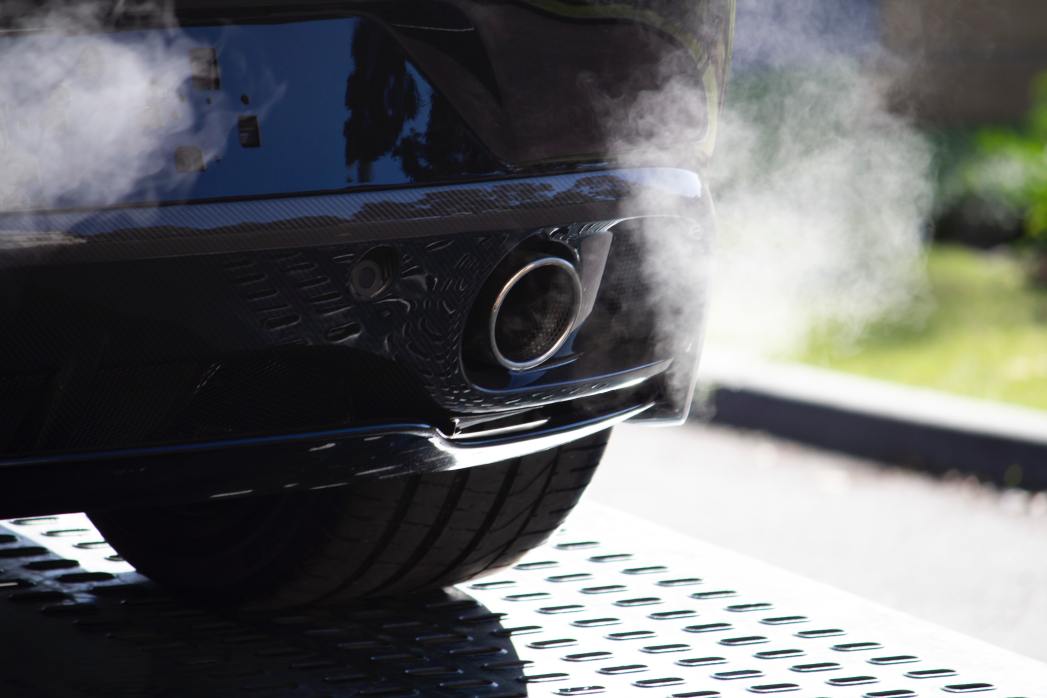 On Wednesday, Governor Healey's new climate chief published an 86-page catalog of recommendations for the state government to start addressing the climate emergency in earnest.
The report is one of the earliest policy initiatives from the new Office of Climate Innovation and Resilience, a new cabinet office in Governor Healey's administration, and its chief, Melissa Hoffer.
In one of her first executive orders when she took office in January, Gov. Healey created the new climate office and ordered that the new office would, "within 180 days, present to the Governor initial recommendations for modifications and improvements to better align executive department decision-making and action on climate matters."
The report makes 39 specific recommendations, which, if taken at face value, would severely curtail traffic-subsidizing highway projects across the Commonwealth.
For instance, Hoffer's report says that "all discretionary State government spending should be aligned with our 2050 Net Zero mandate and climate resilience priorities. Grant programs and capital spending should advance, not undermine, state climate goals."
"Every state agency must prioritize, as a core function, efforts to drive effective action to reduce emissions," says the report.
To be sure, there are still many bureaucrats in state government – including Rebecca Tepper, the state's environmental chief – whose recent actions cast doubt whether the urgency of addressing the climate emergency will ever supersede the desires of disgruntled suburban motorists.
But if the administration does manage to embrace Hoffer's recommendations, it will have major implications for agencies like MassDOT, the Department of Conservation and Recreation, and MassPort, where the vast majority of capital spending still subsidizes expensive, polluting roadways.
Transportation remains the Commonwealth's biggest climate liability
The tailpipes on cars, trucks, and other vehicles generate 37 percent of the state's climate pollution – roughly twice as much more than all of the state's fossil-fueled power plants combined.
And while other sectors of the Massachusetts economy are reducing their consumption of fossil fuels, pollution on the Commonwealth's roadways has been getting worse: highways actually generated more climate-heating pollution in 2015 than they did in 1990, in spite of improved fuel efficiency standards for motor vehicles.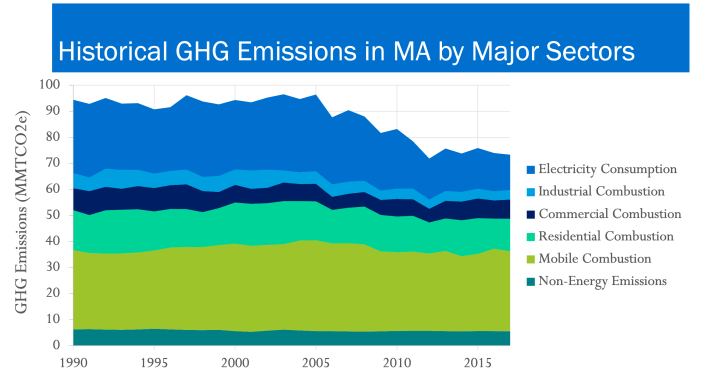 Recommendations include more MassDOT regulation, mode shift, transit-oriented housing
To date, the state's strategy for reducing transportation pollution has attempted to shift the responsibility onto individual consumers, by encouraging people to buy new electric cars.
But electric car purchases aren't living up to expectations, and near the end of his term, Gov. Baker's administration acknowledged that the Commonwealth needed to do more to reduce driving and shift more trips to walking, biking, and transit.
Many of Hoffer's 39 recommendations are administrative: they call for better data reporting, new cross-agency collaborations, and changes to state procurement policies.
But a handful of them call out transportation's role as the state's biggest polluter with specific recommendations for MassDOT:
Recommendation 18 aims for mode shift from short flights to Amtrak, by directing the Massachusetts Port Authority (Massport) and MassDOT "to develop a plan to reduce aviation emissions including consideration of alternative fuels and reduced availability of certain short hop flights where rail exists as an alternative."

Recommendation 20 calls for the Executive Office of Energy and Environmental Affairs (EEA) to work with MassDOT on new regulations to cut pollution. The EEA has imposed mandates, like quotas for renewable energy, that have been effective in cutting pollution in the electric power sector. But to date, the EEA has has little involvement in regulating highway pollution.
Recommendation 21 calls on the MBTA to set up a new "Climate Program Management Office responsible for ensuring achievement of CECP (the Massachusetts Clean Energy and Climate Plan) and resilience mandates." Elaborating further, Hoffer calls on this new climate office to create "a 2050 statewide long-term transportation plan to increase the use of public transportation, reducing reliance on personal vehicles, investing in multimodal transportation infrastructure, and improving the safety and reliability of our transportation system."
In addition to the new climate offices at MassDOT and the MBTA, Hoffer also calls on those agencies to work with the EEA to "work on developing additional goals and policies... These goals and policies should focus on integrating climate change data into project identification and design, reducing vehicle-miles travelled through methods such as transit-oriented development and street design, and evaluating greenhouse gas emissions resulting from the transportation sector."
Stay in touch
Sign up for our free newsletter