Housing
Revised Arborway Bus Plan Would Make Room For Hundreds of New Transit-Oriented Homes
3:48 PM EST on November 21, 2023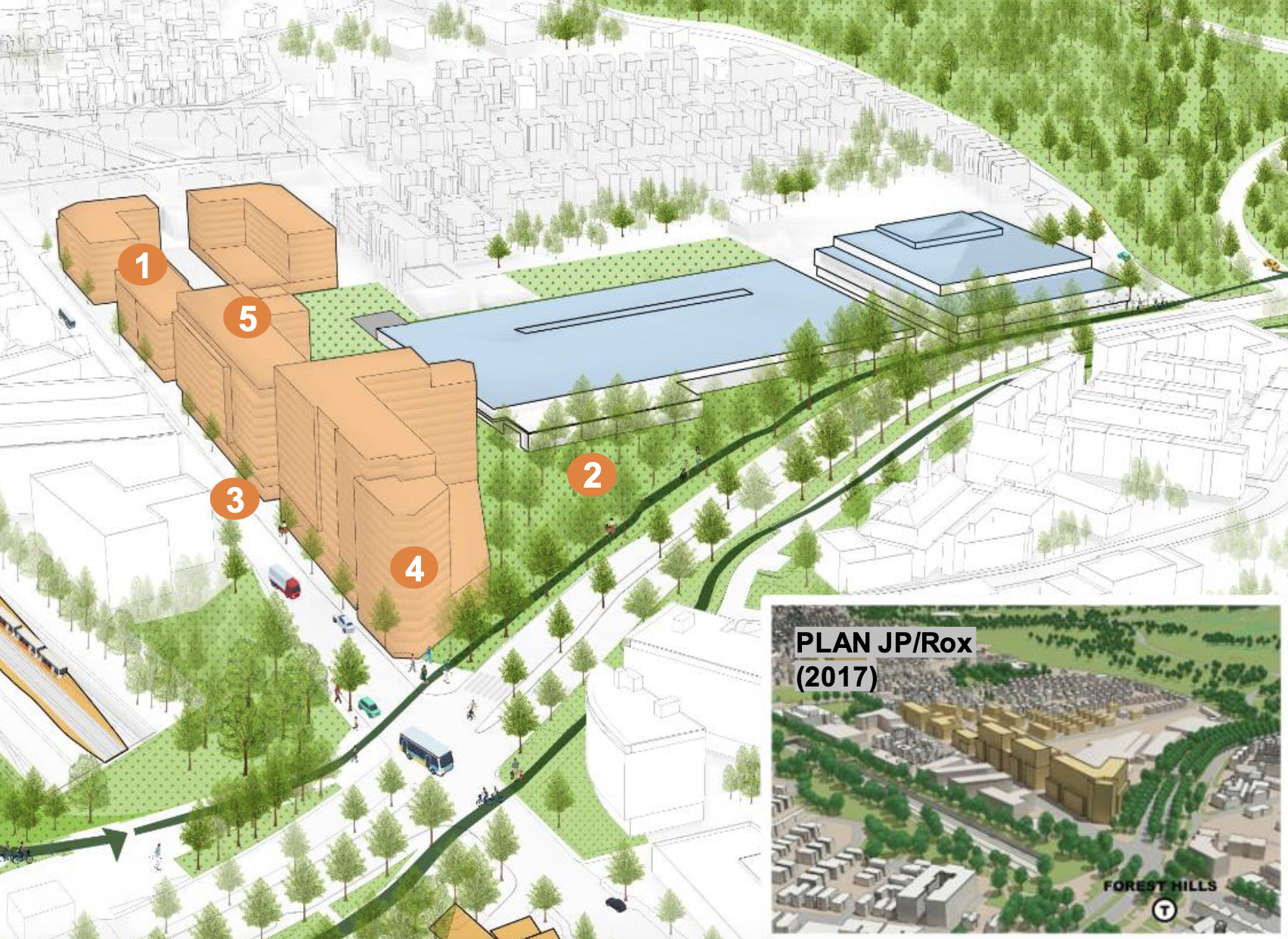 The MBTA has updated its plans for a replacement Arborway bus garage, a keystone project in the agency's long-term plans to expand and electrify its bus fleet, to make more room for transit-oriented development next to Forest Hills station.
A 2001 memorandum of understanding between the City of Boston and MBTA agreed that the T would eventually transfer "no less than 8.0 acres of the Arborway Yard site to the City for community use."
A 2017 neighborhood zoning plan for Jamaica Plain, "Plan JP/Rox," projected that at least 744 homes could be built on those 8 acres, at least half of which would be affordable to lower-income families, in new buildings up to 155 feet tall along Washington Avenue (see illustration above).
However, when the T initially presented its plans for the site earlier this year, the space available for redevelopment along Washington Street had been reduced, to about 6.8 acres.
Officials with the MBTA now say that they've revised the design of the garage so that they can honor the neighborhood's housing priorities.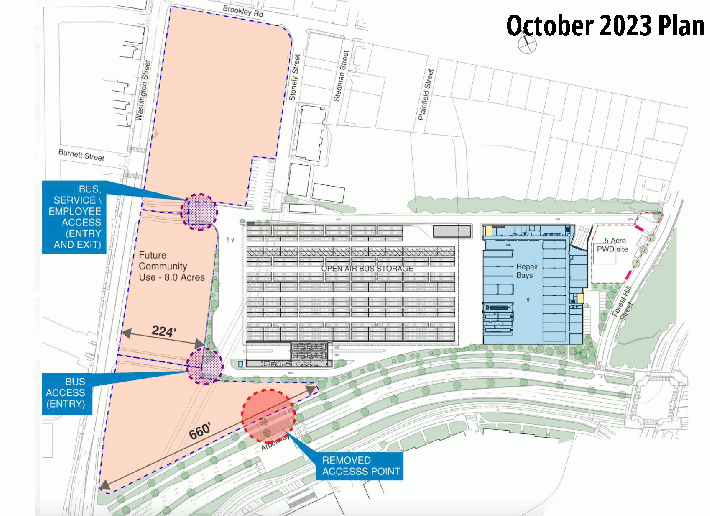 "What we did is we worked together in collaboration with the city to take a step back and rethink the needs and uses on this site," said Alexandra Markiewicz, the Deputy Director of Bus Modernization at the MBTA, at a public hearing for the project in October. "We are ensuring that this new concept does meet, first and foremost, the 8 acres that we heard loud and clear was a priority."
The T made several major design changes to free up the additional land for housing:
Instead of building a single, 60-foot-tall maintenance facility that would have stored buses on multiple levels, the T now proposes a smaller multi-story repair and operations facility on the southeastern corner of their site, and a larger "open-air, canopy-covered" bus storage yard in the center of their site. "This allows us to use the site much more efficiently, because we can go over the area where the Stony Brook culvert is. And we also don't have to dedicate as much space for ramps and circulation," said Markiewicz, the MBTA's Deputy Director of Bus Modernization.

Instead of a surface parking lot for employee parking, the T plans to accommodate employee parking "in a shared structure" inside the 8 acres of future development along Washington Street. "Frankly it would be more efficient in terms of space, and also a more economical way to provide that parking," said Markiewicz.

In a similar vein, buses would access the new facility from Washington Street, using driveways shared with the future development, instead of using duplicative driveways from the Arborway. MBTA staff noted that this will also improve the quality of the Arborway as a greenway connection to Franklin Park.

The T will also take over a portion of the City of Boston's existing public works yard, which currently takes up 1.3 acres between the MBTA's property and Franklin Park. Under the new plan, Boston's public works site would take up a smaller half-acre footprint along Forest Hills Street.
In conjunction with the new development, the City of Boston also plans to reserve additional public right-of-way on Washington Street to construct new sidewalks, bus stops, and protected bike lanes between the Arborway and Brookley Road in conjunction with the new development.
"It's positive that the T is partnering with municipalities to create badly-needed housing, especially transit-oriented housing," says Jarred Johnson, the Executive Director of TransitMatters. "There are plenty of other places where valuable MBTA-owned land could be used for housing. It could help the T address its massive $25 billion state-of-good-repair backlog, or to fund future expansion and modernization."
New garage aims to be ready by 2029
The MBTA hopes to refine the project's design over the next two years, begin construction by 2026, and have the new facility ready to support a new fleet of battery-powered buses by 2029.
When it's open, the new garage will be able to maintain and recharge 200 new battery-electric buses, and the T will retire an existing open-air bus yard where it stores and refuels an aging fleet of methane gas-powered buses on the northern portion of the Arborway site.
The state's climate laws, which require the MBTA to procure only zero-emission buses after 2029, put pressure on the T to finish the project on that timeline.
The T also needs to determine how it will finance the project. The agency's current capital budget includes $36 million for ongoing design and permitting work, but there's no money budgeted for actual construction.
"Construction funding should be in place by Fall 2025 to meet the current schedule," MBTA spokesperson Joe Pesaturo told StreetsblogMASS.
The agency's first attempt to build a new garage for electric buses – a new bus maintenance facility in Quincy – has struggled to proceed on budget and on schedule.
The new Quincy garage, which, like the Arborway project, will also provide charging infrastructure and additional space to support an expanded fleet of electric buses, is under construction now. It's expected to open sometime in 2026.
Project will electrify key bus routes in Mattapan, Dorchester, and Roxbury
The expanded Arborway garage will also let the T buy more 60-foot articulated or "bendy" buses, like the ones that currently serve routes 39 and 28.
The T plans to start using those additional higher-capacity vehicles to relieve crowding on Route 32, which runs along Hyde Park Avenue between Forest Hills and Readville.
The new garage will also serve several other high-ridership, high-frequency bus routes that currently park their vehicles in other garages closer to downtown, including the 16, which runs from Forest Hills to Andrew Square, the 28, which runs on Blue Hill Avenue, and the 39, which runs from Forest Hills to Back Bay.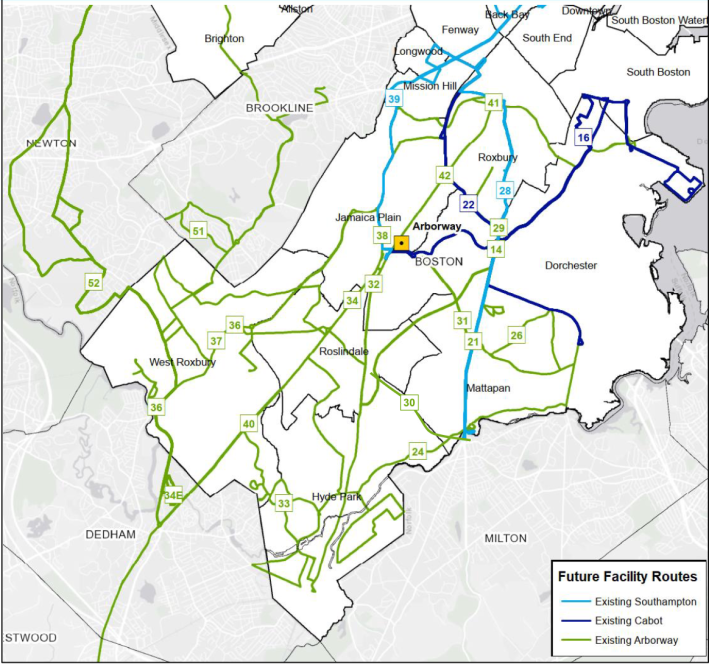 Running new electric buses on those routes will let the T considerably reduce its emissions from diesel bus engines in neighborhoods that suffer from high rates of asthma.
It will also free up additional garage space at the T's other bus garages, to help make room for future renovation projects at those facilities.
The T is also making plans to expand and modify many of these routes as part of its bus network redesign initiative, which should be well underway by the time the new Arborway garage opens.
T spokesperson Joe Pesaturo told StreetsblogMASS that the project's designers "sized the new facility, and projected power demands, to accommodate future increases in service, consistent with the types of increases in service seen in bus network redesign... The T expects the new facility capacity will be able to cover the expanded service."
Stay in touch
Sign up for our free newsletter