Bicycling
Somerville Budget Plan Could Start Highland Ave. Protected Bike Lane Project in 2024
10:20 PM EST on March 9, 2023
On Thursday night, City of Somerville officials presented a new capital budget for the upcoming year that would include a major line-item to rebuild the eastern portion of Highland Avenue, a major east-west bike route, with "protected bike lanes in both directions."
The City of Somerville's Capital Investment Plan (CIP) "commits to the streetscape reconstruction of Highland Avenue, which will include extensive pedestrian safety and accessibility improvements, in addition to protected bike lanes in both directions, following the anticipated completion of sewer separation work in 2024," a spokesperson from Somerville Mayor Ballantyne's office told Streetsblog on Thursday.
Much of Highland Avenue between Central Street and Medford Street has been torn up this winter while the city installs new water and sewer pipes as part of the city's Spring Hill Sewer Separation Project.
For several years now, street safety advocates have viewed that project – which will also construct numerous new traffic-calming features like rain gardens and improved crosswalks on the neighborhood streets immediately south of Highland – as an opportunity to re-imagine how Highland Avenue will be rebuilt when it's time to re-build the street's surface, sometime in late 2024 or early 2025.
Before the sewer construction project, Highland Avenue was 40 feet wide from curb to curb, with almost half of its space dedicated to two lanes of curbside parking, while moving traffic squeezed into two travel lanes in the middle.
In a guest column published on StreetsblogMASS in 2020, Arah Schuur and George Schneeloch of Somerville Bike Safety argued that a reconstructed Highland Avenue should reflect the city's climate goals by swapping out its on-street parking for new protected bike lanes and improved bus stops: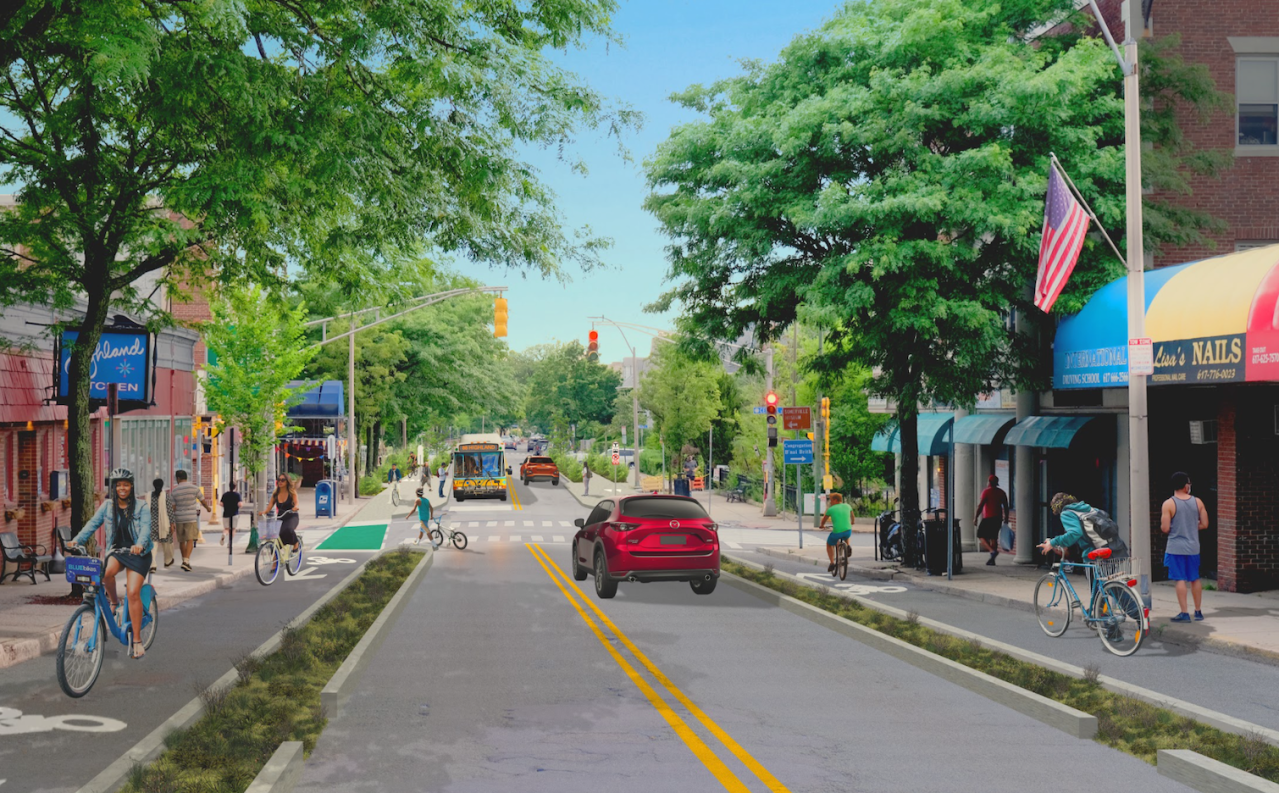 Two years ago, in February 2021, the Somerville City Council unanimously passed an order to direct city staff to pursue a new design for Highland Avenue that would include protected bike lanes after the sewer project is completed.
The city hosted a virtual public meeting in November 2021 to discuss general conditions on Highland Avenue and collect feedback, but since then, there appear to have been no further public meetings about possible new roadway designs.
Ward Three City Councilor Ben Ewen-Campen, who represents the Spring Hill neighborhood and sponsored the 2021 City Council order for protected bike lanes, told StreetsblogMASS on Thursday that he's had close calls with reckless drivers while biking along Highland Avenue with his young children, and that he's grateful Mayor Ballantyne included funding in her budget proposal to get the project back on track.
Ewen-Campen also pointed out that Highland Avenue is identified as one of the top priorities for safer bike infrastructure in the implementation chapter of the city's new Bike Network Plan.
"My understanding is that this dedicated funding in the (capital investment plan) will only cover the eastern portion of Highland Avenue after the sewer project is done, but I'm hopeful we can also get a quick-build project done on the western portion," he said.
Mayor Ballantyne's capital budget proposal also includes funding to build a new traffic-calming intersection design for Clarendon Hill at Alewife Brook Parkway, and to begin a major safety-focused street and sidewalk reconstruction project for Broadway between Alewife Brook Parkway and Ball Square.
Find out more about the proposed capital spending plan on the City of Somerville's new capital budget website.
Stay in touch
Sign up for our free newsletter