MBTA
An Evening Cruise With Phillip Eng, the MBTA's New Boss
2:25 PM EDT on April 14, 2023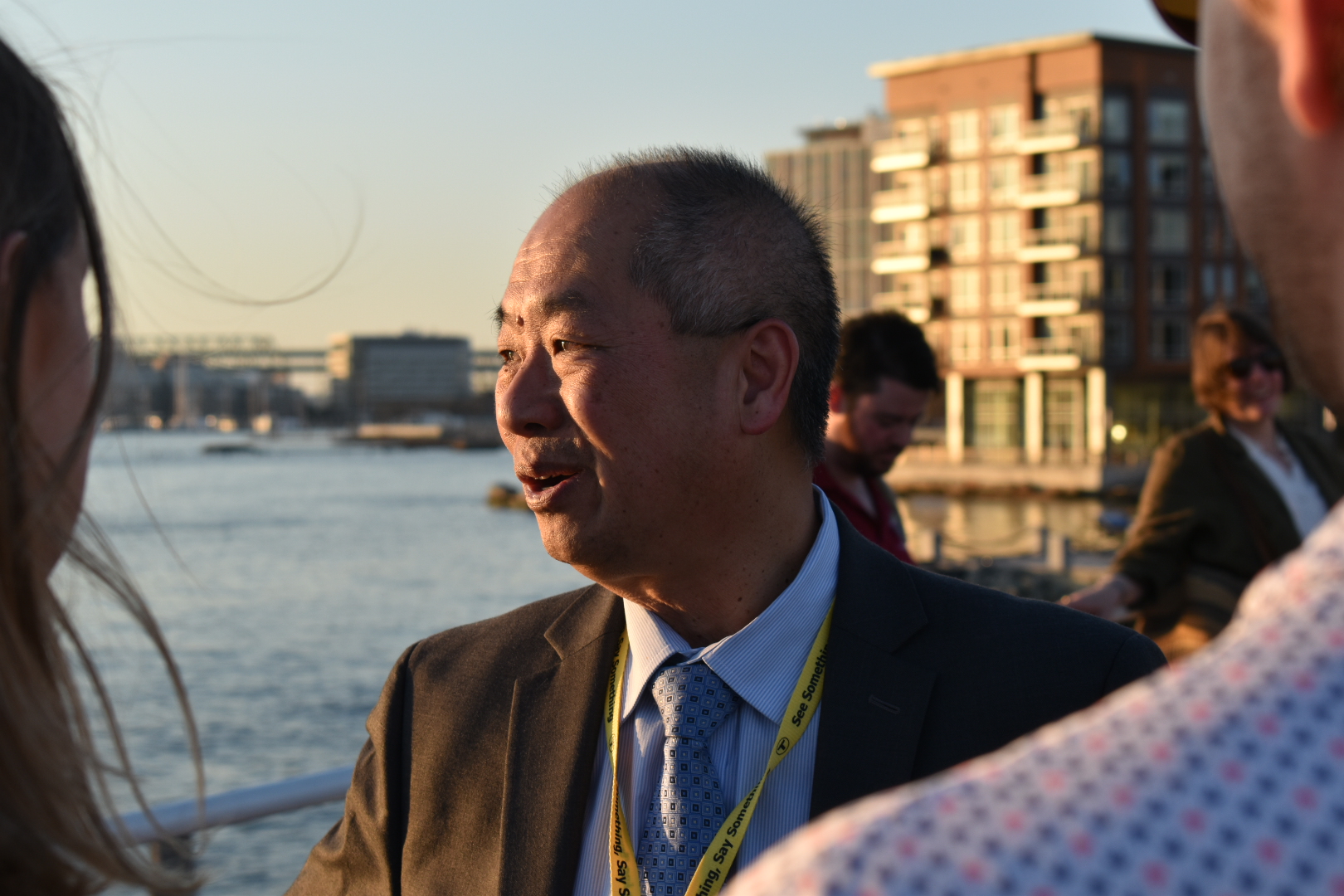 A late-pandemic, early-Anthropocene April evening on the Boston waterfront: along Long Wharf, the outdoor patios were full and raucous for an unseasonably warm happy hour. Brisk-walking commuters hustled onto the 6:10 ferry to Hingham, while a smaller, more relaxed group of middle-aged people milled around the dock and asked passerby if they were in the right place for the 6 p.m. ferry to the casino (in a stroke of ambiguous luck, their boat never showed up).
Phillip Eng, who was just wrapping up his fourth day running the MBTA, was also there, and stopped for a small press conference before he caught a ferry back to the hotel where he's been staying this week in East Boston.
"I've been engaging with a lot of riders on the trains, but also just in my walks to the stations. I guess you (the press) have helped make me a little more recognizable, so people have come up to share their thoughts, which I appreciate, because that's important to me," Eng told reporters.
Eng is a lifelong civil engineer who started his career in 1983 with the New York State Department of Transportation, where he was involved in several major roadway and bridge projects.
In 2017, Eng joined the Metropolitan Transportation Authority (MTA), and shortly after that, he stepped up to lead the MTA's Long Island Railroad (LIRR) in the wake of an embarrassing state audit that found that the railroad's on-time performance was the regional rail system's worst in 18 years.
When Eng announced his retirement from the MTA in February 2022, the LIRR had just set a new record for the best on-time performance in the agency's history, although ridership that year was roughly 39 percent of its pre-pandemic levels.
During his first week in the Boston area, Eng has been riding the Blue Line regularly, and he noted that he's been experiencing some of the T's reliability issues first hand: on Wednesday and Thursday, problems with the Blue Line's overhead power lines forced the T to abruptly replace trains with shuttle buses.
"One of the things that we worked on today was giving the riders an anticipation of when we expected the incident on the Blue Line to subside. And we hit that off at 7 a.m.... This is just the beginning of information that's going to allow (riders) to make decisions. When when an incident does happen... is it five minutes, 15 minutes, an hour or longer? And that's what we're working on. And that's a little bit to hold ourselves accountable as well."
Eng said that better, more honest communication is his first priority for regaining riders' trust in the MBTA.
"When (riders) speak to us, they need to know that we're listening, and we're responding," said Eng. "And I think that will be demonstrated in our actions... This morning, I had a chance to speak with a number of people that got off the bus to get on the Blue Line. And I realized that a lot of them are folks that have to take mass transit, right, they have no other way. I understand what their frustrations are, because if you don't have another option, then you are relying on us.
"For the folks that do have options, again, it's going to be based on actions, it's going to be getting that service to a point where that trip (that's scheduled to be) 45 minutes is 45 minutes, right? What we need to do is give our riders a schedule, and then adhere to that schedule. Obviously we have some work to do. But we're committed to getting the work done."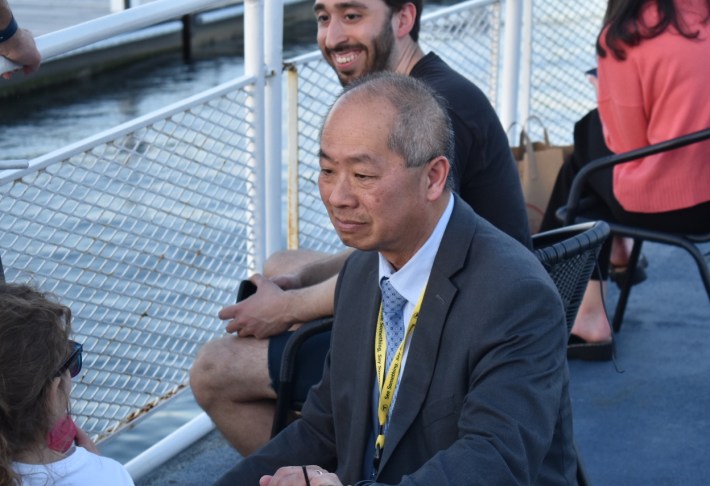 Eng says that even though it's only his first week, he'd already spent a lot of time learning about the T before he arrived here, and that he hadn't really encountered any big surprises in his first week on the job.
"When this first came up as an opportunity, I started monitoring a lot of information and watching the board meetings. Because I wanted to kind of get an understanding of the challenges, and it was good for me to look at it from an outside perspective, right? Obviously, once I was offered the position, and I accepted it, then I really dove even deeper. And that's where I started to have briefings, even before I physically started here, because time is of the essence and it was really important for me to get that."
Eng also says that the Healey administration assured him that the state government would give him and the T the resources they need to succeed.
"In fact, Gov. Healey, Lt. Gov. Driscoll, and Secretary Fiandaca, their support was vital to me in agreeing to take the decision. If I did not believe I had that support, I would not be here right now. And I am fully confident that we will be able to deliver on the things that we promised," said Eng. "And I know there's others that are rooting for us as well."
Once on board the ferry, Eng made a point to introduce himself to most of the other passengers, many of whom recognized him and wished him luck.
"Despite the frustration that some of the public has, the welcome that I've gotten has been really uplifting. They are pulling for us," Eng told StreetsblogMASS. "And I think, you know, you kind of need to because there is no alternative, we need to deliver mass transportation."
"I'm not fully settled yet. You know, I mentioned I'm staying in hotels in East Boston. And next week, I'm gonna stay in Dedham, I want to ride the commuter rail line."
Stay in touch
Sign up for our free newsletter