Street Design
On Morrissey Boulevard, A Flood of Plans, But Little Action
1:14 PM EDT on May 15, 2023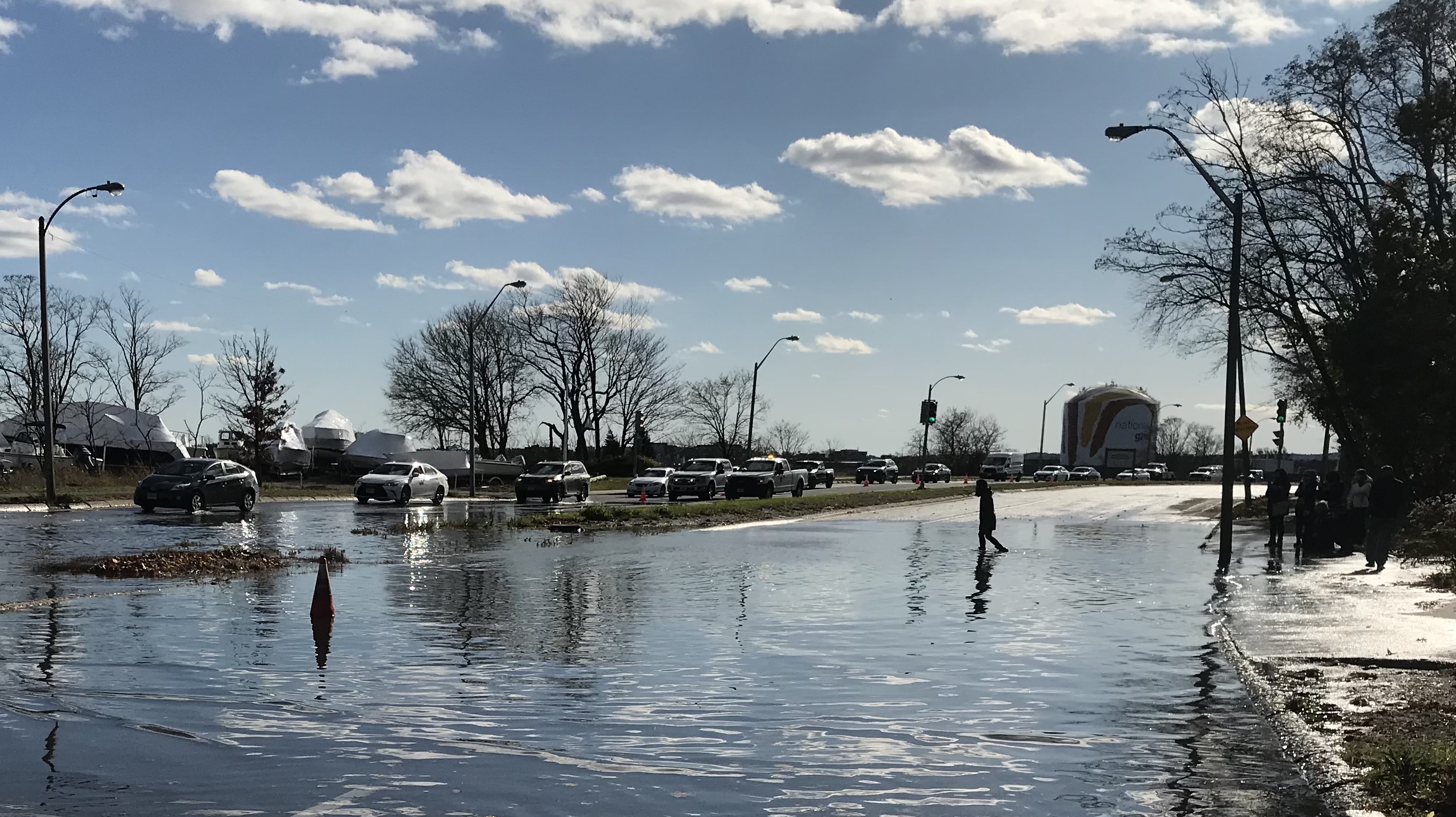 On Dorchester's waterfront, private developers are making plans to build a new transit-oriented district of high rises with thousands of new homes and millions of square feet of commercial space around the JFK/UMass Red Line station.
The area today is dominated by massive of parking lots and dangerous traffic. It's also been identified as being under serious threat from coastal floodingg from rising seas.
To address those challenges, developers are proposing to build new bike- and pedestrian-friendly streets at higher elevations, new harborfront parks with elevated levees, and fewer parking spaces than the city would typically require.
Unfortunately, there's still one big barrier to their vision: Morrissey Boulevard, the crumbling, frequently flooded 10-lane highway that cuts off Dorchester from the Boston Harbor waterfront.
And while there's broad consensus that Morrissey Boulevard is an obsolete, dangerous liability to the neighborhood's future, the various state agencies in charge of the roadway still haven't agreed on a vision for how the Boulevard should be redesigned for a hotter climate and higher seas.
DCR initiated one study for Morrissey Boulevard in 2015, and in the summer of 2017 in presented a design for a proposed reconstruction project that would have removed some motor vehicle lanes, added curb-protected bikeways, and raised the elevation of the roadway's lowest areas to avoid tidal flooding: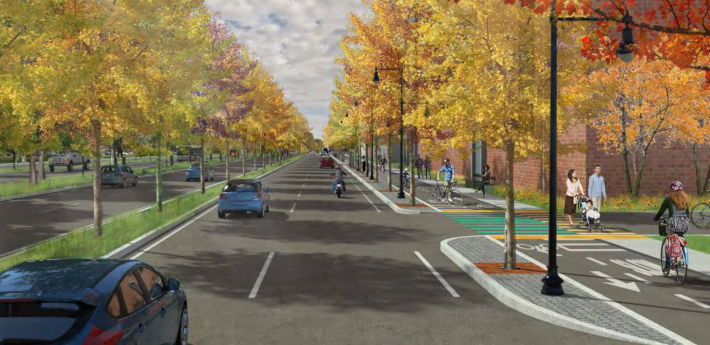 But Mayor Marty Walsh, who regularly used Morrissey Boulevard for his commute, pushed back against the plan to remove car lanes, and instead of defending its work, DCR abandoned the project.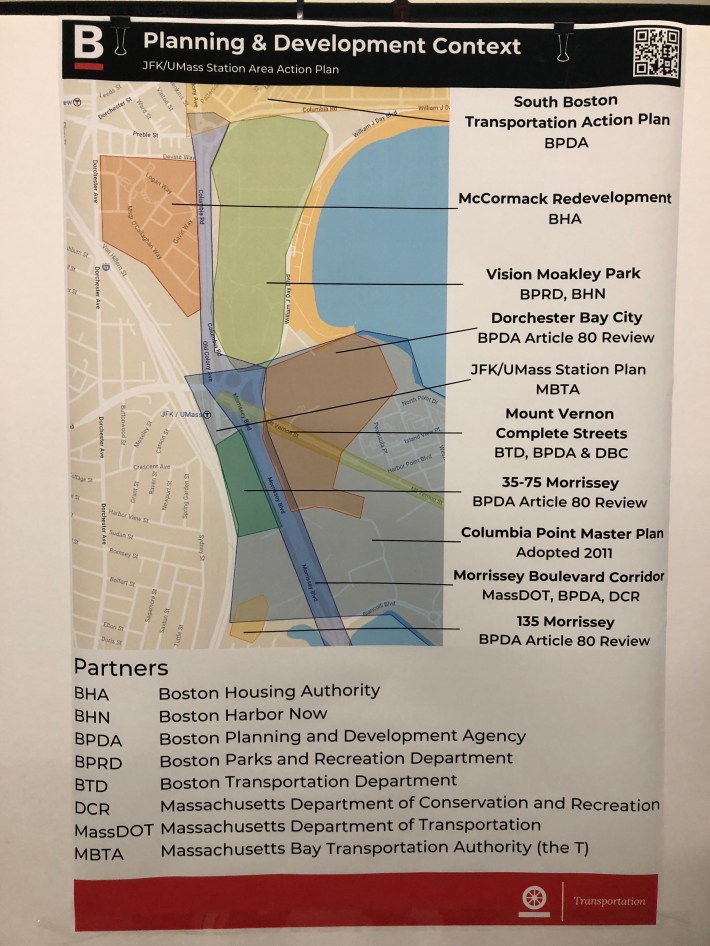 In March 2021, a crowded kitchen of local and state agencies, including the Boston Planning and Development Agency (BPDA), DCR, the Massachusetts Executive Office of Energy and Environmental Affairs, and MassDOT, announced yet another plan for redesigning Morrissey Boulevard.
At the time, the BPDA said that "the study is expected to last about a year."
26 months have passed since then without any public meetings or other signs of progress. StreetsblogMASS recently reached out to MassDOT to find out what happened with that study and its $1 million budget.
"Since early 2022, a consulting firm has been looking at improvements to the public realm, to increase mobility, connectivity, safety, and climate resiliency throughout the area," answered a MassDOT spokesperson in an email last month. "These efforts have been ongoing."
Private developers take the lead
In the absence of leadership from the public sector, private developers are filling the void with their own visions for the area surrounding Morrissey Boulevard.
A master plan for 35-75 Morrissey Boulevard, the site of the Star Market, is proposing to build 585 apartments, nearly one million square feet of commercial space (mostly lab space for life science businesses), and 913 parking spaces in seven buildings just south of the JFK/UMass Red Line station.
That project would be right across the Boulevard from the much larger Dorchester Bay City project, where developers are proposing to build over a dozen new high-rise buildings with 2,000 new apartments, 4.4 million square feet of office and lab space, and nearly 3,000 parking spaces between Morrissey Boulevard and Boston Harbor.
For both of those developments, the lack of consensus around the future of Morrissey Boulevard and the adjacent Kosciuszko Circle (the dangerous rotary where Morrissey, Day Boulevard, Old Colony Avenue, and Mt. Vernon Street all intersect) represents a considerable risk factor.
In a February public hearing, the Dorchester Bay City developers offered their own conceptual proposal for the roadways. Renderings illustrated a narrower Morrissey Boulevard meeting Mt. Vernon Street and Old Colony Avenue in a pair of wide, at-grade intersections: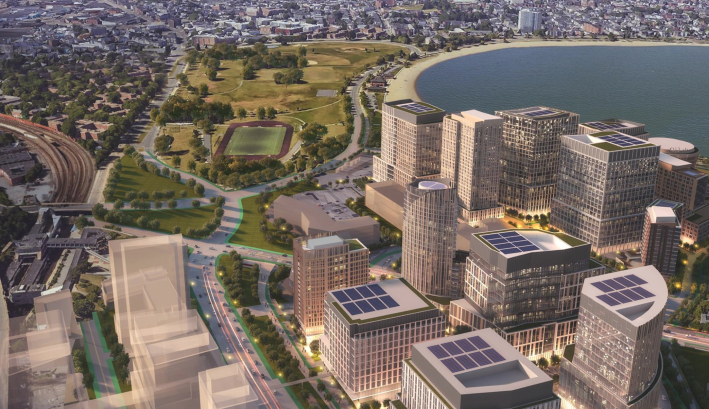 "We did a simple plan of creating a four-way interchange and moving it a little closer to Moakley, a little further away from the I-93 backup we eliminated the overpass... it's kind of a simple concept, said developer Richard Galvin in a February 13 public hearing. "I don't want to say this is the idea, I just want to say there's ideas out there... our goal is to aim money and energy, and to a certain extent be the squeaky wheel, to keep pushing these ideas forward."
Try, try again
Between Kosciuszko Circle and the Beades Drawbridge, Morrissey Boulevard's pavement occupies a footprint of roughly 32 acres. That's roughly the same size as the Dorchester Bay City property.
Though it remains paved over in asphalt and is generally inaccessible to anyone who's not in a car, those 32 acres are still public land, and that real estate represents a huge opportunity for the city and the state to create new parkland, mitigate flood threats, build more affordable housing on the Red Line, or some combination thereof.
So even though all of their efforts to date have failed, public agencies still aren't giving up on making new plans for Morrissey Boulevard.
In April, the City of Boston's Transportation Department (BTD) hosted an open house to launch yet another study for the area with its JFK/UMass Station Area Plan, which aims to "develop a concrete plan and comprehensive vision for improvements in and around the MBTA JFK/UMass Station at Columbia Road."
Ultimately, though, the decision about what to do with Morrissey Boulevard lies with the state government, which is responsible for the roadway and owns the "parkland" that lies buried beneath its asphalt.
Last year, the state bond bill established by law "a special commission to study and examine the transportation, resiliency, infrastructure and multi-modal needs of the regional corridor of Morrissey boulevard in the city of Boston."
The law also stipulated that the commission would include representatives of DCR, MassDOT, the Boston Mayor's Office, and local elected officials, and would "file a report of its findings and recommendations... not later than June 1, 2023."
The state is unlikely to meet that deadline. A MassDOT spokesperson confirmed last month that "the commission is still being formed" and has not yet met.
Stay in touch
Sign up for our free newsletter