MassDOT
WalkBoston Analysis Finds Traffic Violence Is Overwhelmingly Concentrated in Lower-Income, Non-White Neighborhoods
1:12 PM EDT on April 3, 2023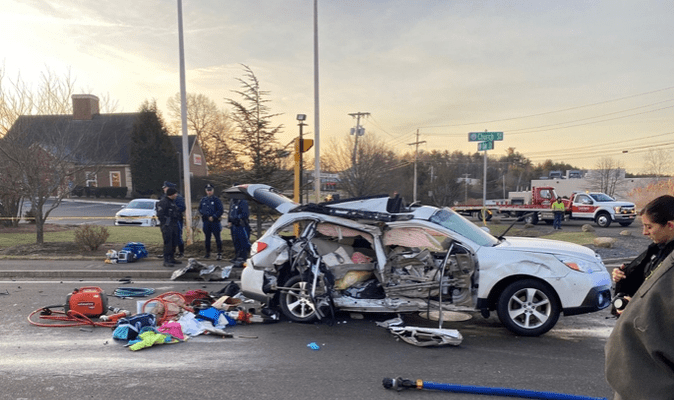 2022 was a record-breaking year for bloodshed on Massachusetts roadways, and a new WalkBoston report finds that more than 70 percent of all fatal crashes that killed a pedestrian occurred in state-designated "environmental justice" neighborhoods, where residents are more likely to be people of color or come from lower-income households.
"This skewed spatial distribution of fatal pedestrian crashes in Massachusetts demonstrates that (environmental justice) communities face disproportionate harm in large part because of historic and present-day injustices in transportation planning," according to WalkBoston's analysis.
As we've reported here previously, 2022 was the second consecutive year that Massachusetts broke new records for traffic fatalities. Although record-keeping is imperfect, MassDOT's database indicates that there were at least 439 crashes last year that killed at least one victim (when we first reported this story in January, the database recorded 430 fatal crashes). At least 101 victims were pedestrians.
Brendan Kearney, Deputy Director of WalkBoston, says that the report's findings demonstrate the need for a strong safety action plan from the Massachusetts Department of Transportation (editor's note: Kearney also serves on the StreetsblogMASS board of directors).
"MassDOT has a new Strategic Highway Safety Plan (SHSP), and there's some good stuff in there. But they kind of punted on identifying timelines and who's accountable," says Kearney. "They recognize they need to release an action plan that follows through on those needs. It's something that they themselves are calling for."
Kearney said that almost immediately after WalkBoston's report came out, MassDOT Highway Administrator Jonathan Gulliver reached out to him to say that the agency is "working on implementing key portions of the SHSP."
MassDOT's capital budget already includes several programs that are focused on improving safety on the Commonwealth's streets. However, funding for those programs pales in comparison to the amount of money the agency spends to maintain dangerous roads and widen highways.
The current 5-year MassDOT capital investment plan includes:
$

13

5.6

millio

n for its "

Safety Improvements Program

," which includes Highway Safety Plan implementation projects;

$75 million for "Complete Streets" programs, which assist cities and towns in building sidewalks, traffic calming projects, and safer bike facilities

$29 million for the "Shared Streets and Spaces" program
$335 million for the "Capacity Program" that funds road widening projects, such as the $34 million widening of the Middlesex Turnpike in Bedford and Billerica – a project that will add sidewalks, but will also make the roadway considerably more dangerous for drivers and pedestrians by adding multiple motor vehicle lanes
$1 billion for "pavement management" – i.e., repaving existing roadways.
WalkBoston also highlights Chicopee, the small Connecticut River Valley city that witnessed an unusually high degree of violence from drivers last year.
As we reported at the end of January, drivers had killed eight people in Chicopee in the last four months of 2022.
Three weeks after we published that story, yet another driver struck and killed a pedestrian on Chicopee Street.
WalkBoston notes that Chicopee – a working-class city of 55,000 on the eastern bank of the Connecticut River between Springfield and Holyoke – has had a much higher rate of pedestrian killings than any other city in Massachusetts when adjusted for population.
Four of the city's fatal pedestrian crashes happened on just two streets: Chicopee Street and Springfield Street, which run through densely-populated residential neighborhoods that also meet the state's criteria for "environmental justice" neighborhoods.
Chicopee Street and Springfield Street aren't under the jurisdiction of MassDOT: they're local streets maintained by the city's small public works department, which has limited financial capacity and lacks professional expertise in designing and building traffic-calming projects.
At a public hearing last month on the city's roadway safety crisis, Chicopee Public Works Superintendent and licensed engineer Elizabette Batista told Chicopee residents that her department was focused on installing new signs and flashing beacons in high-risk locations.
"There are many locations that we are in the process of putting a project together," Batista told residents, but she also warned that those projects would take time.
For the state as a whole, roughly two-thirds of crashes that killed a pedestrian last year occurred on local streets, and the remaining one-third occurred on state highways.
Kearney of WalkBoston says that MassDOT should do more to help municipal officials like Batista plan and build effective traffic-calming projects on dangerous streets.
"If there's only one person in the public works department who's under-resourced, then funding from MassDOT and the Legislature should step up here and make more funding available, kind of in the model of the Shared Streets and Spaces program, to let communities do small-scale infrastructure changes on a short timeline," said Kearney.
Stay in touch
Sign up for our free newsletter