Op-ed
Guest Column: Why Boston's New Traffic Signal Policy is a Big Deal
10:37 AM EDT on June 15, 2023
Signalized intersections in your neighborhood may be getting safer. 
Mayor Wu's "Safety Surge" will make changes to over 700 traffic signals in Boston. While traffic signals aren't typically the focus of a safe street, small changes to signal operations can have significant impacts. 
Boston plans on changing fifty signals a year to follow these new guidelines, but what will these changes entail, and why do they matter?
Historically across the United States, traffic signals have only been seen as measures to reduce congestion. Foundational elements of traffic signals included "level of service," a factor that measures average vehicular delay and lane capacity. 
While these elements serve drivers of private vehicles well, they do not take into consideration the safety of the most vulnerable on our streets. 
By introducing several reformed guidelines at signalized intersections across the city, Boston will refocus on what matters most: safe streets for all. 
Traffic signals along long corridors, like Beacon Street in Back Bay, are often coordinated to allow vehicular traffic to proceed without hitting red lights. All the signals must run on the same cycle length to coordinate traffic signals, based on timing at the busiest traffic signal on the corridor. 
While well-intentioned, this policy often left bicyclists and pedestrians waiting at the curb, as vehicles flowed smoothly in a prioritized manner.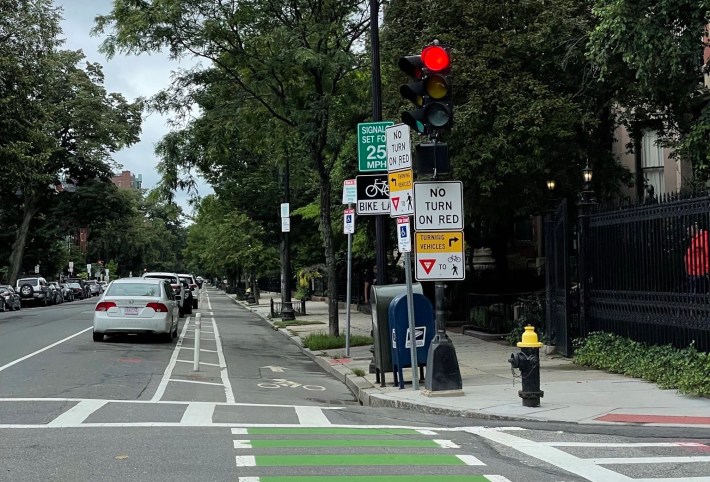 Boston's new signal policy will change that. Traffic engineers will now have the authority  to use shorter cycle lengths to reduce delays for all users, especially pedestrians. 
Furthermore, Boston Transportation Department (BTD) will encourage the use of slower coordination speeds, including on bicycle-priority roadways, to reduce speeding and delays. 
Known as a bicycle "green wave", these progression speeds of 11-15 miles per hour will allow bicyclists to travel along a corridor without having to worry about signalized delays.
Reducing risk from turning vehicles
Of all the potential conflicts that exist at intersections, left-turning traffic can be the most dangerous. Drivers making left turns at high speeds have killed many vulnerable road users, and injured many more. 
Boston aims to reduce this conflict in their new signal policy by adding more criteria as to where "protected-only left turns" can be programmed, especially where turning traffic crosses a busy crosswalk or bicycle lane. Protected-only left turns reduce the chances of collisions by preventing drivers from turning without a green left arrow.
Following many other cities across the country, such as Cambridge, Washington, and Seattle, Boston has introduced a No Turn On Red policy that extends to the downtown area, as well as "Main Street Districts" and "Neighborhood Business Corridors". 
Boston will also ban turns on red:
"At intersections near schools, senior citizen facilities, parks, recreational areas, playgrounds, libraries, mass transit stations or stops, hospitals, or other significant pedestrian generating facilities."

"Where pedestrian head starts or dedicated pedestrian phases are used."

"Where a turn on red crosses a Shared Use Path, or a separated bicycle lane."
Turns on red are extremely dangerous to vulnerable road users: a 1980 Insurance Institute of Highway Safety study found that they increase pedestrian crashes by 60 percent, and bicycle crashes by 100 percent.
Drivers who turn on red lights must block crosswalks to make their turn, and often neglect to check for pedestrians crossing, or make a complete stop.
While prohibiting turns on red lights may increase delay for drivers, the safety benefits are worth it.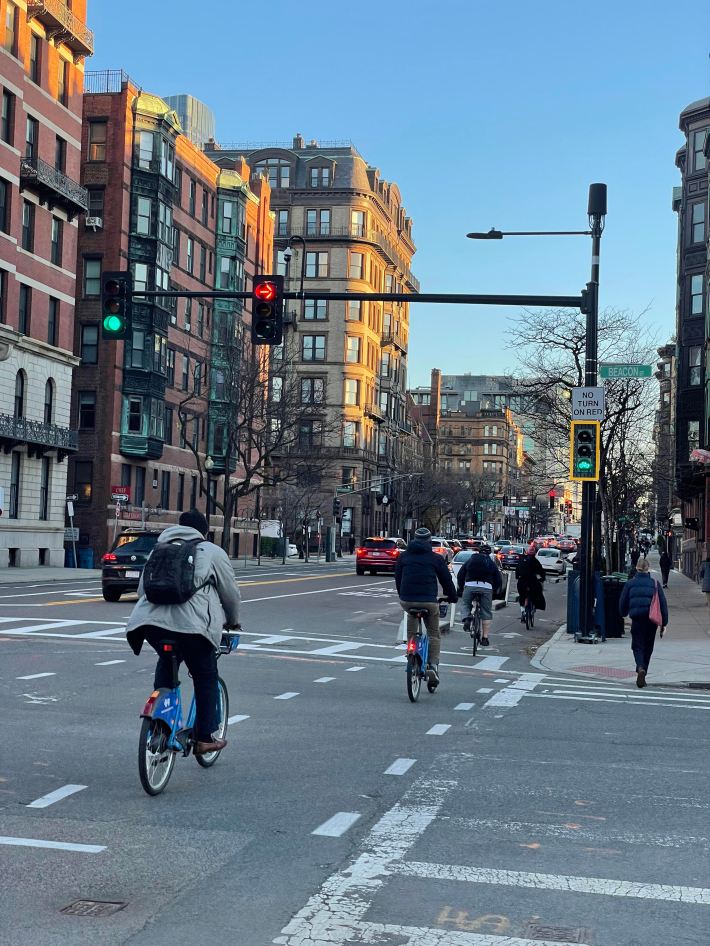 Better walk signals
Historically in Boston, traffic signals would either provide pedestrians an exclusive phase to cross all together, or only activate with traffic. But this will change going forward, as BTD aims to provide more concurrent pedestrian phasing with levels of protection, depending on the volume of turning traffic. 
Under the new policy, at most intersections, pedestrians will get what BTD calls "Partial Pedestrian Protection," a 4-6 second interval when pedestrians will get a walk sign before turning vehicles get a green light. This will reduce the amount of time pedestrians must wait for a walk sign, while still providing some protection from turning vehicles.
However, if there is a significant amount of right-turning traffic across a crosswalk, signals will provide "Full Pedestrian Protection," meaning the signal will allow no vehicles to drive through the crosswalk.
Furthermore, the document specifies that skewed intersections that do not meet at a 90-degree angle (like the Elm Square intersection  in Andover where a driver recently killed a five-year-old) are inappropriate for unprotected walk intervals. 
Going forward, BTD also hopes to make more walk intervals automatic, so pedestrians won't have to push a button for a walk sign. These changes balance minimizing pedestrian delay and improving pedestrian safety, and will make walking more attractive.
While this document is a giant leap forward, there are still changes that I'd like to see made. I'd like the default for traffic signals anywhere in the city to be No Turn On Red.
I'd also like more explicit guidance for bicycle signals, such as leading bicycle intervals, and other phasing that can protect bicyclists. Lastly, I'd like to see a greater focus on transit signal priority, and features such as bus queue jumps, to provide more priority in time to buses. 
In the meantime, I look forward to seeing the new signal policy implemented, as it will provide us with safer, better streets. 
Petru Sofio is an Arlington High School student. This opinion piece represents only his own views, and not any organization he may be affiliated with. 
Stay in touch
Sign up for our free newsletter