MBTA
The T's New 5-Year Capital Budget Puts Climate Progress In A Slow Zone
9:03 AM EDT on May 4, 2023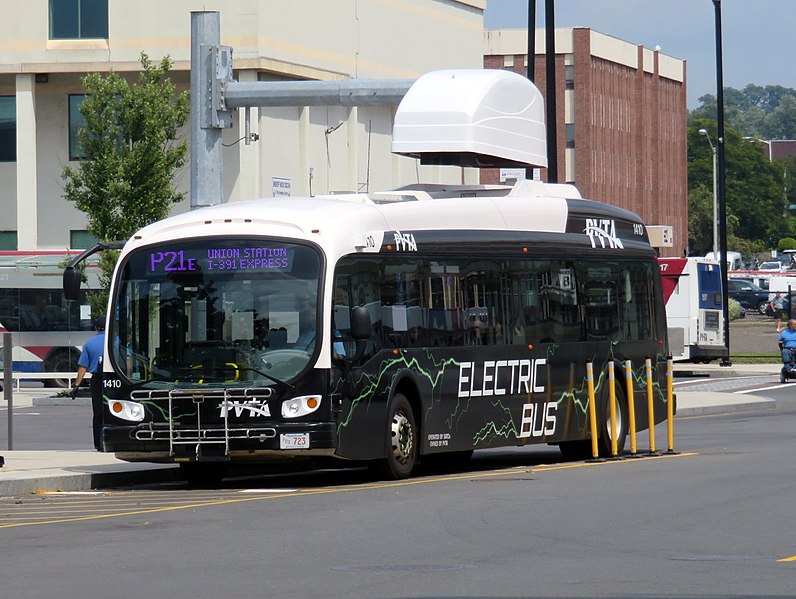 The MBTA's struggles aren't just stranding riders: they're also undermining the Commonwealth's plans to address the climate emergency.
Motor vehicles are the the biggest source of air pollution in Massachusetts, and the T's long-range plans to switch to electric buses and regional trains are inextricably linked to its plans to attract more riders with better, more frequent transit service.
The T already helps hundreds of thousands of Massachusetts residents avoid burning gasoline every day. But for now, it does so by burning a lot of fossil fuel in heavy-duty diesel engines on buses and trains: in 2022, the T burned 13.7 million gallons of diesel fuel in its commuter rail system, plus another 4.6 million gallons in its buses.
"We know every person who steps on public transit and doesn't take a passenger car is carbon savings, even if it's a diesel bus or a diesel train," says Sean Donaghy, the MBTA's Manager of Energy Programs. "So we have plans to eliminate our entire diesel usage here at the T, but our main mission is making sure that people have good reliable transit to ride on."
In its official long-range plans, the T says it will do both those things, together: that in order to provide more reliable transit and convince more people to replace car trips with transit rides, it needs faster, more reliable electric transit vehicles, and the infrastructure necessary to support them.
But while the scientific need for decarbonization becomes more urgent with each passing year, the T's timeline for actually enacting those plans keeps slipping further into an increasingly uncertain future.
Less diesel, better transit
In the past four years, the MBTA's leadership has adopted two major plans aimed at dramatically improving bus and rail reliability to attract more riders – and those plans generally depend on a switch to electric trains and buses.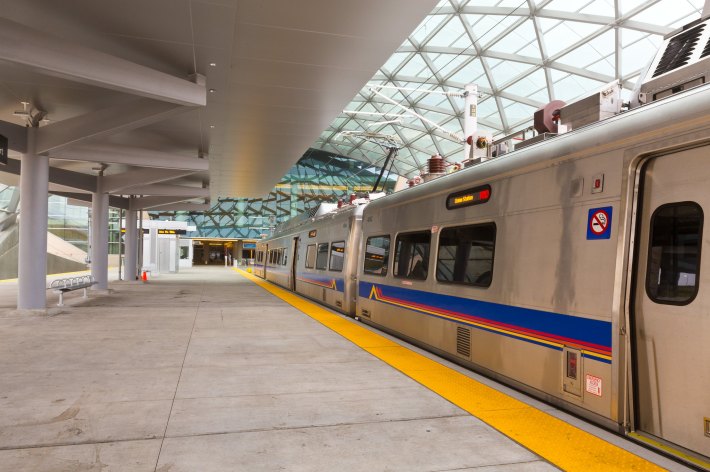 A 2019 "Rail Vision" strategy for the commuter rail system envisioned dramatic improvements in rail service, effectively expanding rapid transit service to serve gateway cities like Lynn, Chelsea, and Worcester with faster, more reliable electric trains running every 15 to 30 minutes.
Electric trains would save the T from burning millions of gallons of diesel fuel every year. But the Rail Vision plan would generate even bigger climate benefits by luring more suburbanites out of their cars.
According to the T's traffic models, turning the commuter rail system into a regional electrified rapid transit system could replace roughly 1.3 million miles' worth of driving with transit trips every day.
The T also has ambitious plans to improve its bus network. Earlier this year, its governing board adopted a plan for a wide-ranging redesign of its entire bus network that called for a 25 percent increase in overall bus service, plus more "frequent service" bus routes where buses would arrive every 15 minutes or less.
The Bus Network Redesign isn't explicitly reliant on electric vehicles, but the plan does focus on running more buses through historically underinvested communities, where more people of color and lower-income households live. The agency doesn't want to undermine the benefits of increased bus service by also subjecting those neighborhoods to more diesel exhaust.
Furthermore, in order to provide that 25 percent increase in overall bus service, the T will also need to replace, expand, and upgrade its decades-old bus garages. And those new bus garages are all being designed to accommodate charging infrastructure for a new fleet of battery-powered buses.
Decarbonization in the slow zone
Even as Governor Healey's new administration takes control of state government with a dedicated cabinet position for climate policy, the MBTA's own plans to reduce highway pollution in the state's most populous region remain largely unfunded.
StreetsblogMASS asked Donaghy, the MBTA's Manager of Energy Programs, whether the new administration had reached out to offer any additional assistance to the T in the interests of accelerating service improvements and electrification.
Donaghy hesitated, then hedged.
"Um, yes and no," he said. "I think we're hoping to have deeper future conversations with the climate office."
Other, more immediate crises have so far prevented the T's management from dedicating much attention to its regional rail and bus network transformation efforts. Without additional financial support and mandates from the state government, that's unlikely to change.
The agency's priorities are evident in the MBTA's latest Capital Investment Plan (CIP), a 5-year budget for major construction projects. The latest CIP, released as a draft earlier this spring for public comment, includes only a small handful of projects that would support improvements to the commuter rail system, and postpones other projects that will be necessary for the T to expand and electrify bus routes.
For the commuter rail system, the draft 5-year plan includes about $30 million for double-tracking projects that would enable more frequent-running trains at a few key bottlenecks, plus $50 million "to support future procurement of 25 electrified or decarbonized Commuter Rail (trains)," and $15.3 million for regional rail studies and consultant services.
All together, those projects represent just 4 percent of the T's planned capital spending for the commuter rail system over the next 5 years.
In fact, the T plans to spend considerably more money – $129 million – just to overhaul and extend the service life of existing diesel-powered trains in its fleet.
Last month, TransitMatters, the transit advocacy organization that has long advocated for faster implementation of the T's regional rail plans, sent out an action alert to ask its members to write to the MBTA's management and demand a more ambitious 5-year plan.
"We got a huge response from that action alert. It got almost 500 letters sent to the T, asking them to put more specific language about electrifying the 'phase 1' regional rail lines, to double the amount of planning funds for the red-blue connection, and to identify more funding for bus electrification," says Jarred Johnson, the executive director of TransitMatters.
"The amount of money going towards diesel equipment (in the CIP) is really doubling down on diesel infrastructure. And it gives me doubt that the T actually ever will meet its deadline for reaching net-zero (emissions)," said Johnson.
Johnson also noted that the CIP also punts on several projects that will be necessary for improving bus service.
Work on the T's first new garage designed for electric buses – a proposed 120-vehicle facility in Quincy – was put on hold last year thanks to escalating costs, and now likely won't open until 2026, over six years after it was initially proposed.
Another bus electrification project – the renovation of the North Cambridge garage, which has been empty since the T scrapped its small fleet of electric trolleybuses in 2022 – has also been delayed by at least a year (it would get $35 million of funding in this year's proposed CIP).
And the largest of the T's proposed bus garage projects – a proposed 200-bus facility on the Arborway near Forest Hills station – would only get $34.7 million for "pre-design" work in the current 5-year plan, which means that the T still hasn't budgeted funds for actual construction to begin (for context, the new Quincy garage gets a budget of $401 million in the current CIP for construction work).
In a 2021 bus electrification strategy, the T had hoped to electrify roughly half of its bus fleet with nearly 600 battery-powered buses by 2030.
To meet that target, the T would need to finish all three of the above-mentioned garage projects, plus at least one more, within the next six years.
Johnson says that he understands the CIP is a "fiscally constrained" document – under traditional budgeting rules, it can't budget for projects it doesn't have funding for.
But he thinks it's a mistake for the T to honor budgetary constraints while ignoring the increasingly urgent constraints of the climate emergency.
"The T has to decide – is this just a business-as-usual budget document, or is this outlining what the T needs to do to modernize, and electrify its fleet, and tell Beacon Hill all the things that need to be done, and what funding it needs to do them?" asks Johnson. "The T needs to be straight with the Legislature about what its needs are."
Stay in touch
Sign up for our free newsletter